The creator of paintball needs our help:
Bob Gurnsey, one of the three originators and one of the first 12 players who participated in the first paintball game ever played is currently ill with cancer and we want to help both him and his family with donations to pay for medical expenses. Bob is credited as being the creator of paintball and we want to do what we can in his time of need. One of the first 12 markers ever used in that paintball game is being auctioned off, and the proceeds from the sale are going to go to Bob and his family to help cover those expenses.
We would like to do two things. Raise as much money as possible to help Bob and purchase the marker to be placed in the EMR Paintball Museum collection. Donations of any denomination are very much appreciated. Whether we win or not, all the money collected from donations will go to help Bob.
The Limited Edition "Survival Game" Badge:
All donations in any denomination are appreciated. If you donate $12 or more to PbNation's Bob Gurnsey fund, we'll assign your account this limited badge:

If we can raise enough money, we'll use it to purchase the marker and place it in the EMR Paintball Museum. All proceeds will go to the Gurnsey family even if we don't win the marker, but we also want this piece of history in a place where it will be appreciated instead of in a private collection.
Bob Gurnsey - Father of the Paintball Industry:
Bob is no less than the father of the game of paintball. Not only did he play in the first ever paintball game, he also was the only one of the original 12 players to stick with it. He went on to create the first company devoted to the sport, The National Survival Game, Inc. He pushed for the water based paint we currently use instead of oil based paint used in the early 80's, developed and distributed the Splatmaster paintball marker, and was supportive of the other entrepreneurs who came into the industry during those early days. He even organized and sponsored the first international paintball competitions that ran from 1983 through 1989. Without Bob, paintball as a game, a sport, or even as an industry, simply would not exist. We all owe a debt to him, and this is just one small way we, as a community, can pay him back.
The Very First Paintball Game:
Paintball was created from a debate among Bob Gurnsey, Hayes Noel and Charles Gaines as to who was better able to survive, a city person who had to be ever vigilant and street wise, or a country person skilled in the ways of the forest. Bob was a small businessman in the White Mountains of New Hampshire, Hayes owned his own seat on the American Stock Exchange and was a trader, and Charles was a novelist and screen writer with the Arnold Schwarzenegger breakout film, Pumping Iron, to his credit. They devised an individual game where pistols used to mark trees for felling, cattle for slaughter and telephone poles for replacement would be used to mark players out if shot. Since the debate was about survival, they called it the Survival Game. The first game was centered on the individual, where the 12 players enter a wooded area from different points and attempted to secure four different colored flags and leave the area without getting marked. They invited some friends to play the first game which included Ken Barrett, a friend of Hayes and an investment banker from New York City.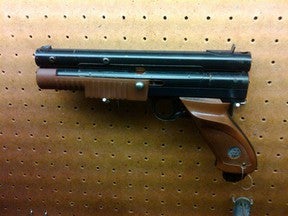 The Auction:
Jerry Braun is auctioning off one of the first 12 markers ever used to play paintball. The marker is the NelSpot007 belonging to Ken Barrett. Ken distinguished himself as the first player ever eliminated in a paintball game. The game was won by a forester without ever firing a shot. Ken kept his NelSpot007, and in early 1983, he brought two friends to Jerry Braun's field in Brewster, New York and traded him the pistol he used in that first paintball game for entries for himself and his friends. Jerry used the pistol through 1983 and into 1984. The Delaware Delta Dogs were one of the early competition paintball teams and played at Jerry's fields on occasion, then in Plattekill, New York. They replaced the bolt action on their NelSpots with hand crafted pumps. They gave Jerry one, and he put it on the NelSpot. Jerry retired this marker soon after, and it has been sitting in his closet for a quarter of a century. At some point in the late 80's, Bob started collecting NelSpots used in the first paintball game, but a fire at his New Hampshire offices virtually destroyed his collection. To the best of our knowledge, only two such markers remain in existence. This is one of those two and we believe it belongs in a museum. If we win the auction, it will be placed in the EMR Paintball Museum. Help get the word out!
on Facebook, Myspace and more!