RULES: Must Be Read Before Posting
---
1. Normal rules still apply here
That includes trying to sell things here, posting useless spam messages, no pornography, no racism etc... for a full list of the websites rules click the link below.
2. Insulting other members is not allowed
No flaming. Saying "Dallas sucks" (Or "NYG Blows" or anything along those lines) is perfectly fine with the exception of posting something like that in team support threads (see Rule 4) - but saying something offensive to a user is considered flaming and bannable. Keep the discussion on sports and not the person you are discussing it with.
3. Don't spam the forum

Don't make a thread saying "My team rocks" or "Your team sucks" without content, an article, or something to discuss.

4. Respect the team support threads
Support Threads - These are made for the fans of a specific team to have their own discussion. If you have something negative to say about their respective team don't even post. This will be considered trolling every time.
5. Don't post more then one thread per a subject
Take a look around the forum we don't need three threads for one subject.

6. Report violations to the staff and let them handle it

If you see a violation of these rules occurring, please do not attempt to correct the offender yourself in any way. That's why moderators exist. Simply use the "Report the Post" function to alert the moderators of the nature of the infraction, and they will handle the situation in a method they deem appropriate. When six users jump on another user for an infraction, all it does is send the thread down the tubes and cause general disruption. Let the moderators do the dirty work.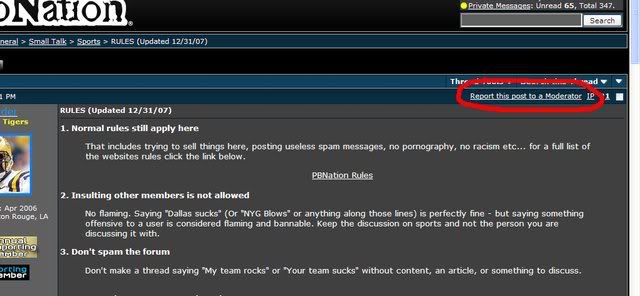 7. All decisions rest with and are made by the moderators of the Sports forum and the staff of PBNation in general.
All decisions made by moderators are final and non-negotiable. Moderators may interpret these rules as they see fit and may act on those interpretations. If you feel you have been disciplined unjustly, send a respectful PM to one of the moderators and we will explain to you why actions were taken or post in the Talk to Mods/Admins forum. Threats or arguments with the moderators will result in further and more severe actions.
__________________
"I stood in Tiger Stadium and I thought, 'This is what the Colosseum in Rome must have been like.'"

██████████████████████████████████████████
██████████████████████████████████
████████████████████████
---
Last edited by Kolder : 12-31-2007 at

04:07 PM

.