Go to any B/S/T thread where you purchased or sold an item. Remember, you must have posted in the thread to leave feedback. Find the user with whom you completed a deal. In the top right of their post, click on the words, "Post feedback for buyer|seller"
Make sure you read the feedback rules before leaving feedback. If you don't agree with them or understand them, don't use our feedback system.
Here's an example where you were the seller:
Here's an example where you were the buyer: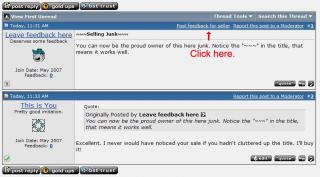 (Notice how both buyers quoted the original sale so even if the seller edited his post to "Sold" later, they could still read the details of what was purchased. We also recommend posting the terms of the deal in the thread once they've been agreed to so there is no confusion.)
If it was a trade and you both have a thread, the feedback can start with either thread. You are not allowed to receive or give feedback from both threads since it was one deal.
Then fill out the following quick form. Other users checking feedback later will only be able to see the top three blanks. The large additional comment is for direct communication with the other person in the transaction.
Please follow this format when entering feedback. Include what the item was, a short review of the transaction and a detail or two that stands out (example: 2005 Ego / B+ / would do business again, should have been packed better). Since this is the only part other people will be able to see, make sure to leave some detail so your feedback is useful to future buyers. You must indicate if the person is known to you in any way (on your team, friend from school, relative or even someone you met once or casually know) in this blank. You also must put how the transaction was completed if it was done in any way besides shipping the part through UPS, USPS, Fed Ex or DHL. You also must say so if you used a 3rd party. Avoiding any of these three rules is feedback fraud which results in an immediate and permanent ban.
That's it. You're done. The system will automatically send the other user a PM with a link to the feedback you posted so he can post feedback in return or reply to your comments.
The Feedback rating system is easy (just like eBay). You receive:
+1 point for each positive comment
0 points for each neutral comment
-1 point for each negative comment