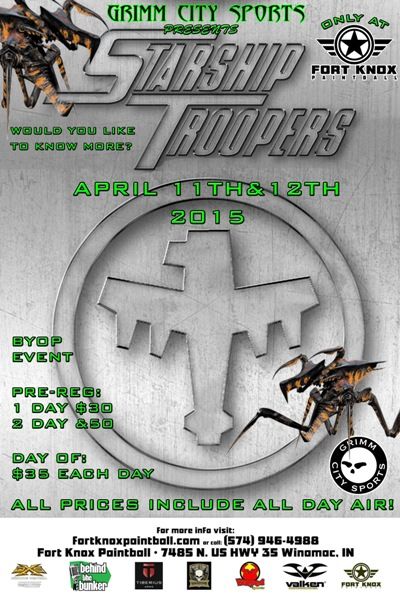 Visit
www.fortknoxpaintball.com
to pre-register
1 Day* Big Game Pass $30 (includes all day air)

2 Day* Big Game Pass $50 (includes all day air)
*Pre-Registration closes April 3 at 10:00 pm*
Dont Want to Pre-register?? Just show up on big game day and register.
$35 (includes all day air) per day.
What is a Big Game? Basically, it is an all-day theme based scenario event that is played with hundreds of players of all ages and skill levels. Fort Knox opens all the fields as one GIGANTIC playing field. Game consists of 2 separate HUGE team forces that battle for points and are given specific missions and tasks to complete throughout the day.
In the year 22XX, over the last few centuries, society has come together as a whole known as the Terren Federation. Earth and its surrounding planetary settlements have been faced with a new threat of war. Not a war by fellow human kind, but of a bug kind! The Arachnid Swarm have been pushing out from their corner of the universe to lay to waste everything, so only the Bugs can thrive!
The Invasion is set to begin! Join now, Fight, & WIN!
Would you like to know more?......
Factions
GREEN: Terren Federation/Mobile Infantry
Commander: Narf aka Brendan Pierce
RED: Arachnid Swarm/Bugs
Commander: Ian Martin.
Day 1 (Sat.) 4/11
8am Registration Opens
11am Player Briefing
12am Game On!
3-4pm Lunch Break
4-7pm Game On!
Day 2 (Sun.) 4/12
8am Registration Opens
9:30am Player Briefing
10am Game on
12:30-1:30pm Lunch Break
1:30-3:30pm Game on