NOW ACCEPTING TRADES!
I only just recently got it perfectly tuned in, she shoots absolute butter now. Post any questions you may have.
Upgrade List:
STD LPR
CP V2 Reg
CP On/Off
Evil Pipe Barrel .686
Stock LPR and Replacements(A lot of these are hard to find)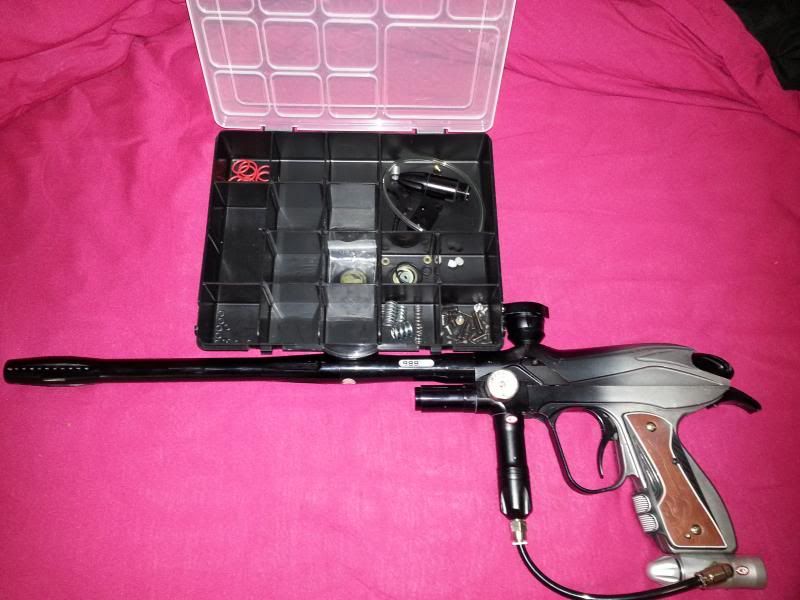 PRICE: $200 OBO
Reasonable offers please
WANTS:
Cash
Egos
Infamous Timmies
A1s
FXs
Cyborgs
Odyssey 03e/x
Creeds
Cash
DMs
PMs
Quests
Shockers
Thresholds
FS8s
Droids
More Cash
Cockers
Pumps
And some cash
DONT WANTS
Not cash
To Add more than $100 or so
Ions
Tippmanns
Rails
GOG
DP G-series
Spyders
Ethas
Eteks
Don't be afraid to offer. I do have some cash/gear to add, but I'd prefer to keep cash on the low side.
Rules:
1. I will determine who ships first in a trade, usually it's he who has less feedback ships first. Buyer sends funds first, I deal in paypal only, no gifting.
2. Buyer will send money first, then I ship. No exceptions. Local exchange at Ambush in Moorpark, CA field can be done.
3. Lowballs will be ignored and treated as free bolds, some may be ridiculed depending on how serious. Free bolds are appreciated, however.
4. No flaming my prices, stuff, or person. I enjoy reporting people.
5. Post your offer. I'll PM you if interested.
6. Act your age, if you act under 16, I'll ask to speak with your folks.