Hey there, built my first team stand and I'm pretty happy with how it came out and works.
I combined elements from Byoung4now's 6 Player Paintball Gun and Mask Rack at Instructables.com and The_Cool_Dude's 6 Player team stand.
This is the finished product:
To start off you will need:
2- 10' lengths of PVC Pipe.
I used a mix of 200psi and 480psi, because I had it laying around. The 480 has thicker walls and is sturdier, and only about 15 cents more than the 200psi stuff. But you can use whichever you like.
8- 90 degree elbows
6- slip on end caps
3- cross fittings
4- 3-way corner fittings
16- Tee fittings
pipe cutter
Glue
Paint - black, brown, tan and green
Wax paper
Painters tape
Card stock (I used a piece of junk mail, any thicker paper should do)
Razor knife
latex (or similar) gloves
1- 6' length foam or rubber pipe insulation
Cut the pipe to the following lengths:
2@ 23"
2@ 28.5"
6@ 7"
4@ 6"
6@ 2"
2@ 8"
2@ 4.5"
2@ 1.75"
6@ 1.25"
11@ 3.5"
Assemble the base as follows:
Glueing ONLY where marked in red.
Assemble it to look like this (and coat it with two coats of the tan spray paint). Remember, the 7" pieces all run horizontal, and the 6" pieces are all vertical:
Grab a camo pattern off the web, I used this one: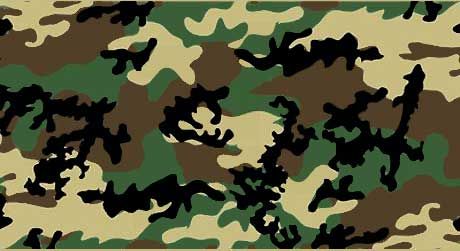 and using any photo editing software print one copy with all the color except black removed, and print one with all the color except tan removed.
Then lay down an 9"x11" (ish) piece of wax paper and cover it in strips of painters tape, like so (I did both sides to save time):
Tape your tan print out over it and trace the shapes with your razor knife, being sure to cut through both sides.
Feel free to connect the shapes any way you like, creating a jigsaw puzzle effect, which I hope you can see here:
Then peel out each shape and stick them on the rack, try not to cover more than about 10% of any area with the shapes, and don't worry about the top cross bar or the upright Tee fittings, they will be covered with foam when you are done.
Once you have the stickers stuck to your liking, spray the entire stand with the brown and green paint, in alternating strokes.
While that is drying, tape your black isolated camo print out to your card stock and cut out just the black shapes creating a stencil:
When the green and brown paint is dry, remove the taped shapes, making sure to get all the pieces. Then, cut the stencil into workable pieces, leaving enough around the sides to catch any overspray, put on your gloves and spray on the black shapes through the stencil in short bursts. Try to put black shapes in strategic locations where 2-3 colors meet, and rotate the stencil to avoid repetition in the pattern. You may also want to give the entire stand a
light
misting with green or black to dull down the tan a little.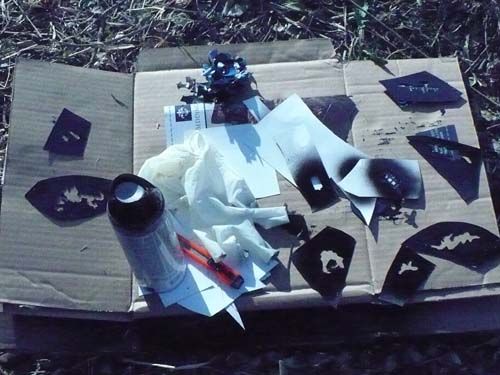 OPTIONAL: You can also create pod holders on the side, out of plastic pipe strapping and some screws, just make sure you pre-drill the hole in the PVC first, and be careful.
Cut your foam/rubber pipe insulation to fit over the Tee's and the top cross bar, and you are DONE!