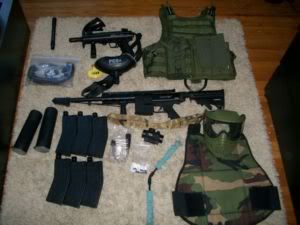 Shown in Picture:
Primary Marker: Looking for $350 OBO
RAP4 T68 Special Edition 9.5/10 Condition used once shot in barrel
14" Tactical Rifled Barrel
M4 Muzzle Break
Air in stock Collapsable stock
Tactical Shroud
Mountable Sight Rail
Two Point Sling
Magazine Fed
Secondary Marker: Looking for $150
PCS US5 9/10 couple scratches thats it.
3" SMG Barrel
Standard back plate
Single Point Sling
50 Round Hopper
Other Items Shown:
2x 20 Rounds RAP4 Magazines (4 have been sold) $25/ea
2x 100 Round Pods $3/ea
Original PCS Barrel; Free with PCS
Assorted Screws for PCS and Sights; with PCS
PCS line (Where CO2 Flows through, not currently attached); with PCS
Cobra Line Remote Line; Push Button; Must have for T68
200 Round PCS Hopper; $5
Military MOLLE Vest With (Top Right); 9/10 Condition, $80
1x Triple Mag Pouch (Left Side) SOLD
1x Double Mag Pouch (Ride Side) $20 with vest
1x CO2/HPA Pouch (On Rear) $20 with vest
BlackJack Vest $15
Mask $1-
Barrel Squeegee SOLD
Want to sell to pay off some debt and maybe get a Paintball Pistol, Open to trades(etek3, masks etc) no low ballers please.
Have no cash so will not be giving any nor will I be shipping with my money.
Feel free to text : 2264480221
Located in St.Thomas Ontario