Price Drop!
Alright, the time has come.... I am putting my eldest marker up for sale. This is a PVI (Pneuventures) Shocker (#1429) COMPLETE exactly as it would have come when purchased new. For those who are in the know; Smart Parts did not actually invent the Shocker; they purchased the design from a NASA contracting firm, Pneuventures, who designed and built it. Also, the Max-Flo reg we all know was originally named the 'Shocker 200' (see pics). What a piece of paintball history. This is the wall hanger of wall hangers.... it is one of the few pristine examples left in the world and these rarely come up for sale.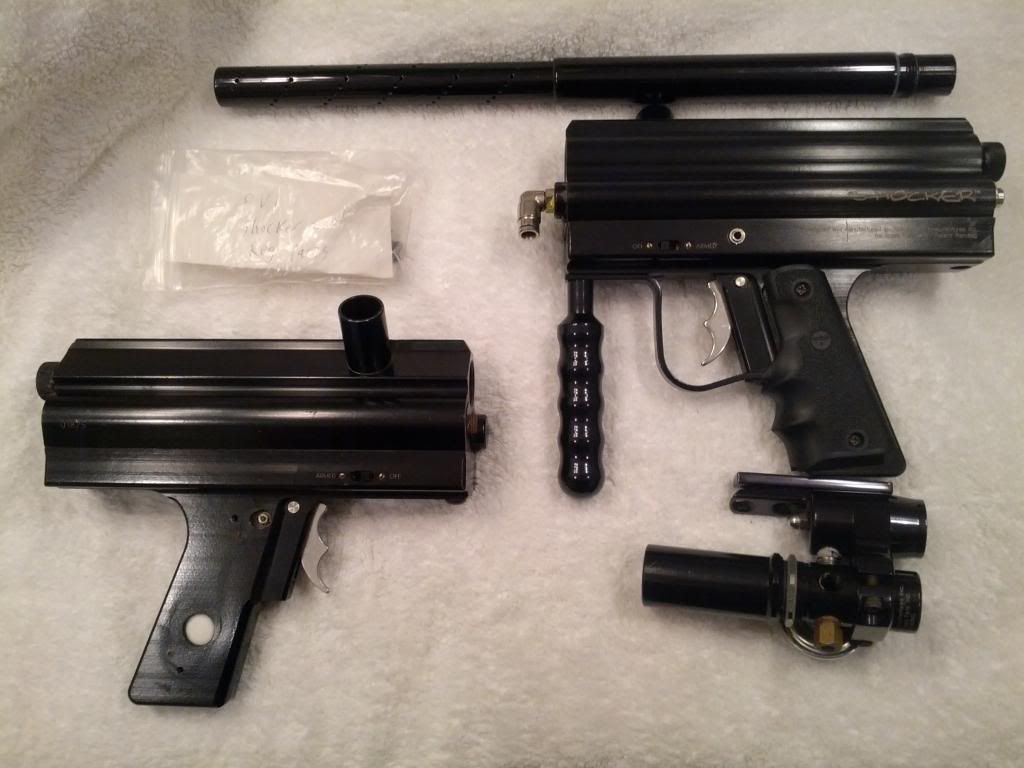 The body is 9.5/10 condition. This package includes the gun, the original front grip, the original 2-piece glued All American 16" barrel, the original 'Shocker 200' regulator and all bottomline attachments.
Also included is a whole another PVI shocker I found a while back on eBay. It can be used for spare parts if you want to use this gun. The condition of this spare is also surprisingly good; I'd say it is 8/10.
I used the complete gun once a couple years ago at the All American's indoor field (before it closed) and it shot fine, though I used 3000psi on a loader and 2 pods.... This thing should be in a museum, but if it were to be used: This is not being sold as 'working' though due to the age...some orings may need to be changed I'm sure, but it holds air and definitely cycles...not to mention it runs on AA batteries (no joke!)
I am asking $215 ((NOW $185)) Shipped (I pack these guns extra securely)