Vibe/Envy/SP1/G1 power button replacment
Yep sometimes we have to do this. Be it loosing one or getting shot in the power button,accidents do happen. These buttons don't cost very much and it's wise to keep these on hand at all times. Never know when you need them.
So as I listen to some Hank Williams Jr. and other assorted artist, I'll write up this down and dirty
"How To"
.
So just recently my power button was shot and it was hit in such a manner that I could not even turn off the gun. So I take out the batter and take the gun apart. Remove the button and loose it soon after that. Not before I was able to inspect it.
It was shot and the impact made the button angle in the frame. The retainment tanges actually broke off. Oh well I put the gun away grabbed another and off I went to play.
Not everyone has the luxury of having 5-6 back ups with them like I do. To some their Vbe/Envy/SP1/G1 are the only gun they own. So if it goes down they are done for the day.
So when you have a little extra cash,instead of trying to buy that expensive barrel buy a few extra spare parts. They are worth every penny especially if this is your only gun. Spare parts are worth their weight in gold. I'd rather have the spares first before an upgrade:
power buttons
solenoids
stock board
batteries
Things like this are more important than replacing say a stock barrel
(we'll cover the barrel in another "How To")
or regulator. Everything on one of these guns work great right out of the box. But if you don't have spare parts, why even show up to the field.
As with all my write ups, if more pictures are need, please let me know and I'll add.
Let's get the gun, tools and parts ready:
We will only need allen wrenches for this operation.
Here we have the power button missing:
Missing from the field after I took it out. It was still functional with me using an allen wrench to turn it on, but why risk more damage. Which I really doubt, I've seen videos of this board submerged in water and come back out shooting with out a flaw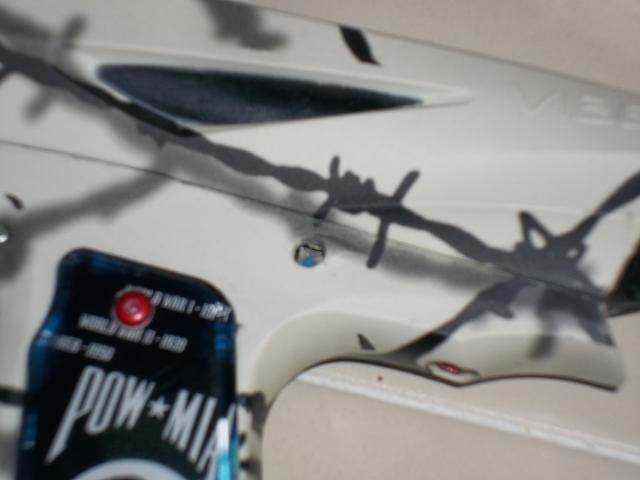 Remove the grip and battery:
Yep this involves taking one grip off, so let's get busy.
Remove the grip frame:
That's right we have to take out the two screws that hold in the frame.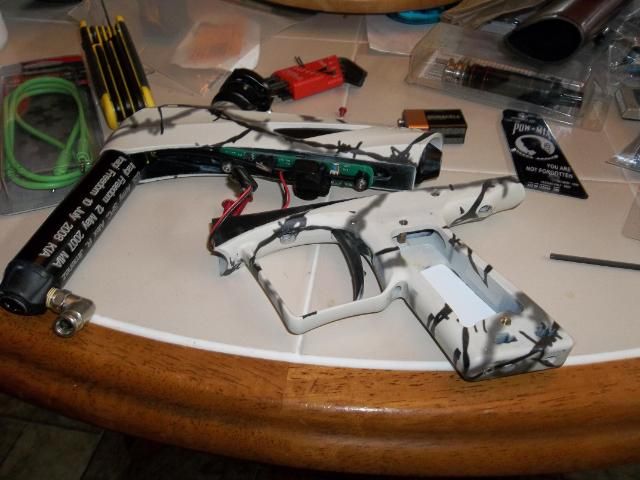 Get spare power button:
Well worth the few extra bucks I paid for these. I need to order more. I'm down to 4 and like to keep these in stock. Never know, a fellow GoGer could need one at an event
Which side goes up and which side goes down in the grip frame:
If you noticed I have blackened a part of the power button. This portioned in the recessed portion. It is the top of the power button. This part will go to the top of the frame.
See the drawing for better decription
.
So many times I read and hear about players putting these buttons in upside down (I've done it myself and ruined the power switch on the board) and can be a costly mistake.
All it takes is to slide the button into the frame hole and keep it at a slight tilt. Make sure you put the battery cpa thru the frame first. Slide on the main body and push together. Button is now set in place. It's that simple.
Replace frame and battery:
Power Button installed and working:
Put on grip and screw down:
Have fun and go play. It's just that simple. You are looking at about a 5 min repair. Took me longer to write this up and take pictures.
Later,
Blackrain