THIS MARKER IS FOR SALE ONLY
Rules:
I do not ship first...you pay, I ship.
Payment by Paypal.
I will ship via USPS priority w/ tracking.
No trades...please do not offer any.
Marker: Bob Long Marq 7 Rapper Limited Edition Chrome
Color: Chrome with black accents (Yes real Chrome; its like looking into a mirror)
Internals Condition: 10/10 --Everything is as clean as it gets. No leaks.
Frame/Body Condition: 8.5/10 --Small scratch on the left and right side of the body; too small and the chrome hides the it too well to take a good picture. Small amount of tarnish by the grips (shown in pictures).
This marq is a very smooth and accurate marker. I personally really like the feedneck for it's very low profile. Used it for some indoor winter play, but have decided to sell it to spend some money on school related items (Senior Design projects can be spendy). The whole marker including the LPR and HPR has been cleaned and re-lubed. I approximated where the LPR and HPR were last set and has not had any air through it to test fps. This is due to lack of air resources. But I assure you that it is capable of shooting 240-305.
Specs:
Tadao Yakuza OLED board
Pillow bolt
Super Charged Engine
Chrome CP Barrel (do not know the bore size)
Chrome CP on/off and rail
Chrome CP HPR
PRICE: $300 shipped and PP'd
Now for the PICS: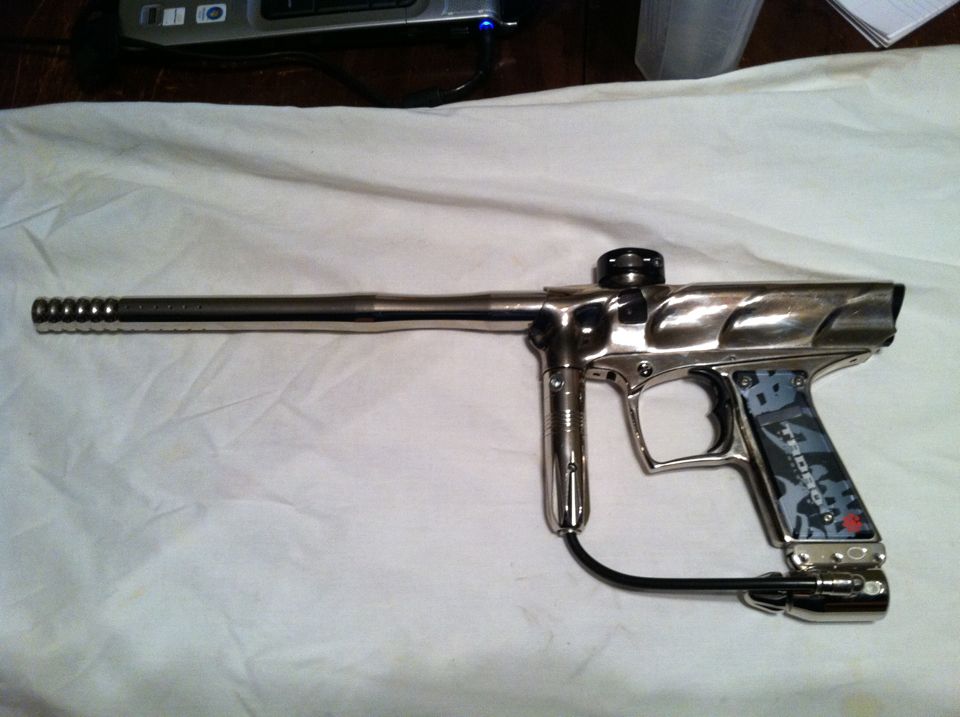 THANKS FOR LOOKING!