For Sale: Custom BT4 Combat paintball marker and accessories. This BT4 marker is great for 1st time player for experienced woodsballer. I used this marker for about one season and it has performed flawlessly. I have made the jump over to pump markers so I have not been using this one that much.
The BT4 has a custom paint job (had some crazy love affair with COD MW3 a while back) and fully modded with all the best parts. This marker with the correct loader will fire up to 30 balls a second or more with out chopping. The Marker comes with a mech trigger frame as well as a BT Egrip. The Egrip has a aftermarket A.P.E. grip installed. The APE board has all popular, fully customizable fire modes from semi to non-safety full auto as well as popular ramping modes such as PSP.
The marker also has a Techt Zero Kick hammer for faster rates of fire and better air consumption as well as a polished interior, custom milled valve and ASA all of which help air consumption.
Included with the marker is a BT Rip Clip loader (up to 20-25 bps) with custom board (don't remember the manufacture).
Marker also comes with the stock BT barrel as well as BT foregrip and barrel from a BT Omega to make the marker resemble a AR-15 or M16. Also have a BT magwell and mag and BT rear stock to complete the AR-15/ M16 look as seen in the picture. Will also include in the stock egrip and stock hammer and BT4 vertical grip (all seen in the pictures)
For another $20, not shown in picture, I will toss in an old mask and a 3000psi tank so you can start playing today. Tank is still with-in hydro date for a few more years. Mask has seen better days. $170 for marker and accessories, $20 more for mask and tank. Shipping Extra. Please NO TRADES. Paypal Only. Pay today...ship today!!!
[IMG]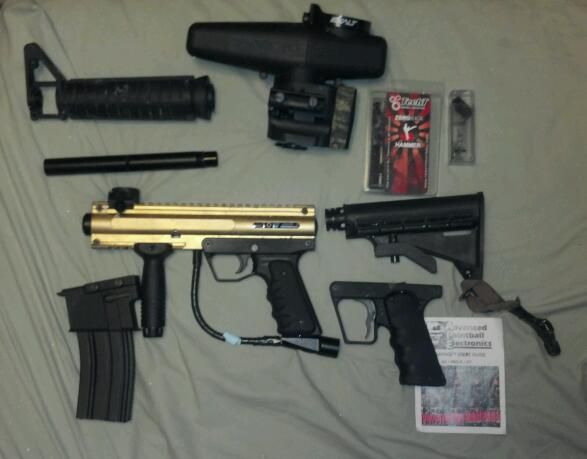 [/IMG]