West Coast Paintball Series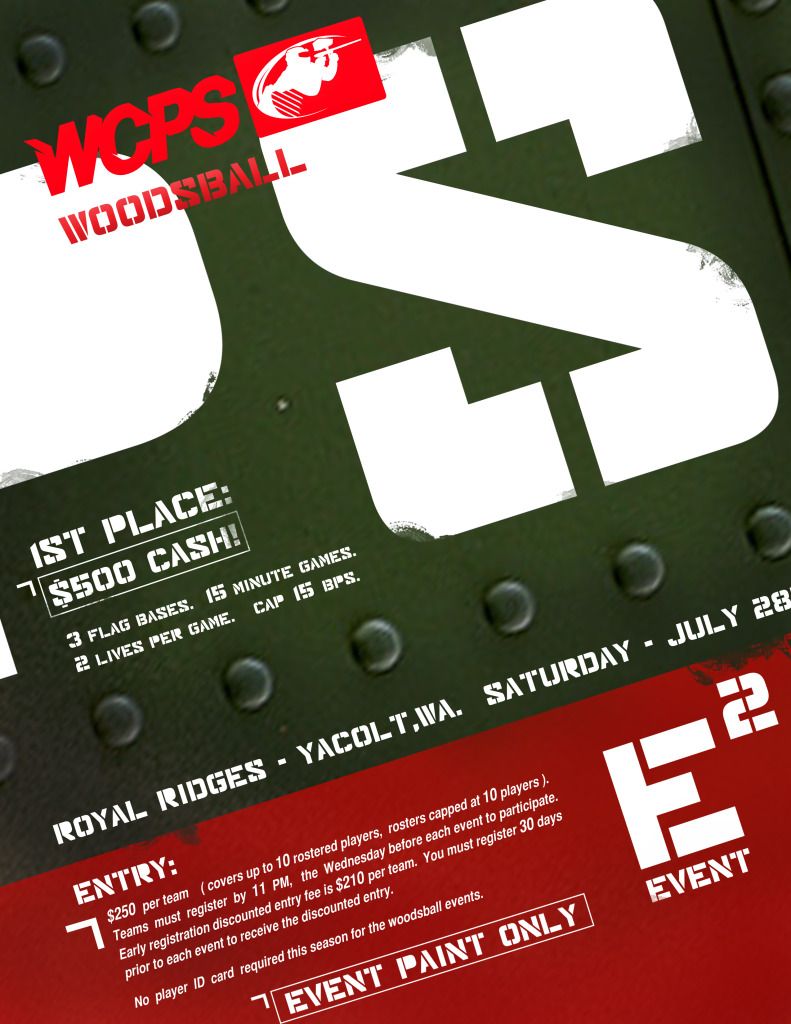 Presents: The 2012, 7-Man Woodsball Season,
Event #2- Saturday, July 28th
Location: Royal Ridges - Yacolt, WA
Entry:
$250 per team (covers up to 10 rostered players, rosters capped at 10 players). Teams must register by 11 PM, the Wednesday before each event to participate. Early registration discounted entry fee is $210 per team. You must register 30 days prior to each event to receive the discounted entry
Paint:
Two grades $55- $60
The Format:
3 Flag Bases: At each 5-minute interval, one of the three bases will be marked as a "Hot" base, earning the team that holds it, 4 points a minute. When a base is not marked as "Hot", it will be considered a "Cold" base, earning the team that holds it, 1 point a minute. "Hot" bases will be determined at random by the field head referee prior to each game.
15-Minute Games: 100 points possible per game; 90 points possible for captured flag bases + an additional 10 bonus points for completely eliminating the opposing team before the 15 minutes are up. The team that earns the most points will win that match. Teams will get a chance to play each other twice, switching sides of the field (this will depend on amount of teams, and if there is an even amount of teams).
Players Will Have 2 Lives Per Game: Each player will have two arm bands. The first time a player is eliminated, they will need to return to their start station where a referee will remove one of the arm bands. Once the arm band is received by the start station referee, the player is allowed to respawn back into the game.
Flag Base Layout & Playing Field: With consideration of the terrain, the following will apply: 1 flag base will be accessible 50/50 for both teams, 1 base will have a slight advantage for one team's side and vice versa for the other remaining base. Each field will be roughly the area of a football field and may utilize buildings, forts, natural structures, or any other structures common to woodsball.
Firing mode: semi or ramping, capped at 15 bps. If your marker cannot be capped at 15 bps or under, you will need to use a gravity-fed hopper, or an approved hopper listed here.
Games begin at 9 a.m. , captain's meeting at 8:30 a.m.
Click to Register online now.
(Cash is preferred at the event. However, we can accept credit cards but you'll have to wait a little longer in the morning line. Paint can be purchased at the event)
Concessions available at the Events.
Prizes
Events
Event #1 June 9th @ The Swamp- Lebanon, OR
Event #2 July 28th @ Royal Ridges- Yacolt, WA
Event #3 September 15th @ Splat Action- Molalla, OR
Event #4 November 3rd @ TBA
Team List:
(Bolded team names have paid their entry fees)
TBS
The Irregulators
ACI
Splat Action Spartans
P-Town/ Blacksheep
HAVOC
(+$75 added to the prize pool for new team signed up)
ForestFire
(+$75 added to the prize pool for new team signed up)
Sponsors of the WCPS:
Platinum Sponsors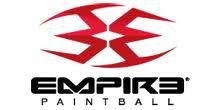 Gold Sponsors


Silver Sponsors


Bronze Sponsors








Official Media Sponsors: