This tournament will be held out of Boise, Idaho @ True Paintball. For directions please visit TruePaintball.com With enough players this will be a 3 Field event. Bring warm clothing, this will be a cold one, but also THE MOST FUN!!!
PLEASE THANK TEAM DOMINATORS FOR RUNNING THIS EVENT AND PROVIDING US WITHFREE FOOD!!!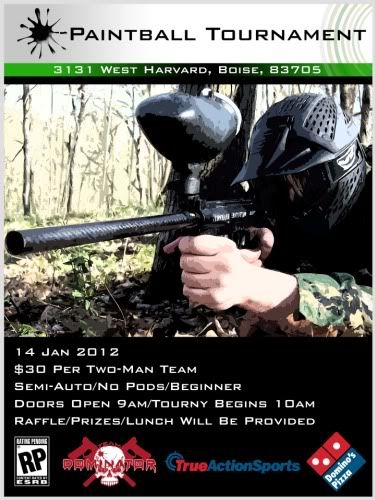 #1 Rikki Bobby trade mark. "If you dont chew BIG RED, then ........."
mmhmm...
We are also throwing in a 3-Man event for the more experienced players. all the information is on the flyer, there will be a captains meeting the morning of to go over the rules. Questions can be asked at that time. This will be a speedball event. We will use the blow ups for this one. (older blow-ups) so dont throw a fit =P
I SWING MY HERR BACK AND..... uh... poppycock!!