Explicit OT V.34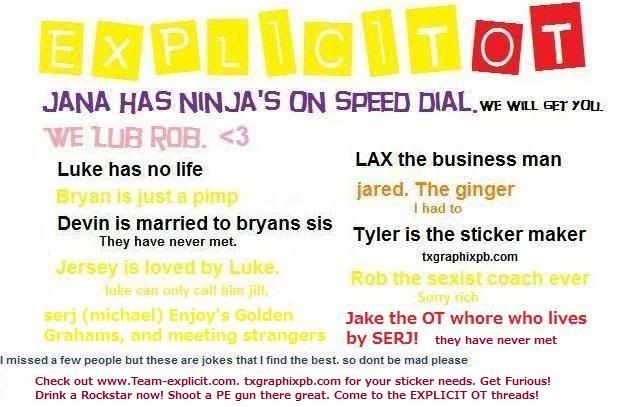 --------------------------------------------------------------------------------
SF EXPLICIT OT V.34
Alright, this is the "Off Topic" discussion for fans of San Fransisco Explicit. Post if you want, just don't flame. Everyone in this thread has been and always will be loyal to this OT. Rules of any other OT apply here. If you want to become a "member" too bad, there are no members here, just a group of fans that love SF Explicit. Happy Posting.
http://www.facebook.com/group.php?gid=262645405952
JOIN THE OT GROUP ON FACEBOOK!
Explicit OT Rules: Obey them we only have 2
1.) Yes this is an OT thread, but please don't come in here and flame, we have no need for it and its not welcomed whatsoever.
2.) DO NOT ask to become a member in this thread because we don't have any.
Birthday Calendar!
Buck- Jan. 23rd
Serj- Feb. 3rd
Xballer-Feb. 4th
Jill-Feb. 15th.
Everto-Feb 23rd
Jared-March 9th
Whitley-March 31st
Chris-April 18th
Jake(the best Oter)- April 19th
Goat-April 24th
Logan-April 27th.
Jagero-June 2nd.
Luke-June 11th
Bodycount-Aug. 3rd
Spyder- Aug. 19th
Tyler-Aug. 20th
Rob-Sept. 22nd
Pbstar-Oct. 5th
Devin-Oct. 18th
Mark - Oct. 28th
Logan-Nov. 2nd
Ronnie-Sept. 6th
PM ME YOUR BDAY AND YOU'LL BE ADDED!
EXPLICIT OT HISTORY
San Fransisco Explicit OT V.1-Str8Rider.
San Fransisco Explicit OT V.2-Ionic Moron
San Fransisco Explicit OT V.3 Where Jill and Cat Killers Meet
Explicit OT: VERSION 4-Ionic Moron
Explicit OT V5- "The eh"-BeatD0wnCity
SF Explicit OT V.6-TexasBalla24
SF Explicit OT v.7-Impulse_Owner
SF Explicit OT v.8
SF Explicit OT V.9-Lax01
SF Explicit OT V10-BeatD0wnCity
SF Explicit OT V11- Ionic Moron
SF Explicit OT V.12-BodyCount81
SF Explicit OT V.13- Eastcoastballerz
SF Explicit OT V.14- Impulse_owner
SF Explicit OT v.15-lax01
SF Explicit OT v.16-Bryandragan
SF Explicit OT v.17-ego 321
SF Explicit OT v18-tampaPBballa
SF Explicit OT v.19-Texasballa24
SF Explicit OT V.20-fba33
SF Explicit OT V.21-jagr
SF Explicit OT V.22-goat123
SF Explicit OT V.23-lax01
SF Explicit OT V.24 - thaballer1028
SF EXPLICIT OT V.25 thaballer1028
SF Explicit OT V.26 Pballer2013
SF Explicit OT V.27 Impulse_owner
Sf Explicit Ot V.28 Impulse_owner
Sf Explicit OT v.29 Impulse_owner
Sf Explicit OT v.30 Impulse_owner
SF Explicit OT V.31 BryanDragan
Sf Explicit OT v.32 RonniePB
Sf Explicit OT v.33 Lax01