Fort Knox Paintball
7485 N US HWY 35, Winamac, IN
46996 (1 1/2 hour SE of Chicago)
http://www.fortknoxpaintball.com/
Phone: 574-946-4988
Email:
fortknoxusa@yahoo.com

BYOP BYOP BYOP BYOP BYOP BYOP BYOP
Visit
www.fortknoxpaintball.com
for Pre-Registration info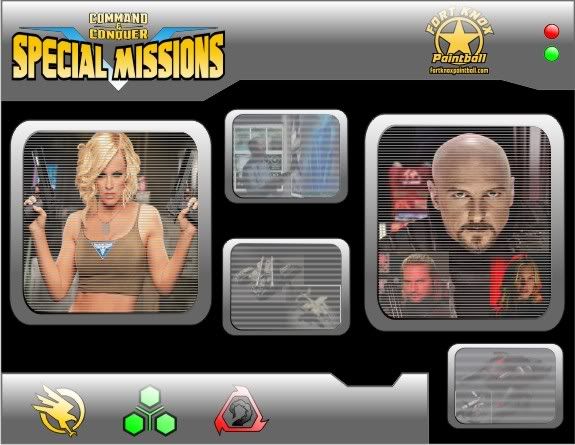 DATE
Saturday, August 15, 2009
TIME
Registration begins @ 8am (eastern time)
Game starts @ 11 am
ENTRY FEE
Pre-registration:
$25 Field Fee (includes all day air)
Registration day of the event:
$30 Field Fee (includes all day air)
COMMAND AND CONQUER @ Fort Knox Paintball
Gameplay / Storyline
:
This game is based on the hit RTS Command & Conquer specifically the Tiberium Wars storyline. To learn more about this aspect of the game storyline visit this page:
http://en.wikipedia.org/wiki/Command...uer#Story_arcs
The story revolves around the struggle between GDI & Nod and their attempts to control Tiberium and shape the future of the world. Both teams will be given a number of missions to complete and score points. Teams will also have to harvest Tiberium to earn points and valuable upgrades.
Teams
:
GDI - Global Defense Initiative: Green
A globalized and multinational military task force, colloquially known and referred to as GDI, the Global Defense Initiative originated from a secret military alliance between the most industrialized and advanced countries under the United Nations umbrella. Sanctioned to become the international community's collective response to the proliferation of the Tiberium substance and the influence of the Brotherhood of Nod society, the Global Defense Initiative was rendered the executive branch of the United Nations Security Council.
Nod - The Brotherhood of Nod: Red
An ancient and secret society that allegedly predates most of civilization's recorded history, the Brotherhood of Nod began to represent a globalized as well as a highly militant cult. Showing the combined characteristics of a vast religious movement, a multi-national corporation and a decentralized nation-state, while being none of the three in itself. The society consistently is shown to be led by a mysterious, charismatic character who is known only as "Kane".

Resources & Special Items
:
Tiberium- A mysterious crystalline material that was discovered on the planet in 1995. The poisonous mineral has been valued greatly for as long as it has existed on Earth, and has been used by both the Brotherhood of Nod and the Global Defense Initiative as a form of currency. Tiberium will have to be harvested by both teams to score points and earn upgrades.
Futuretech Advanced Ordnance Pistol aka The Handcannon-
A small but effective handgun that fires rocket propelled explosive rounds. Excellent for clearing structures or bringing down aircraft. Unfortunately ammunition is limited.
Futuretech Ion Rifle-
--Classified--
Nod Flamethrower aka The Foolsmoker-
--Classified--
Nod Bioweapons Case-
--Classified--
Missions
:
At this time we will not be listing all of the specific mission details. But here is a list of things you can expect to be doing:
* Attack & Defend Structures
* Escort / Hostage Rescue
* Building Demolitions
* Build / Deactivate Devices