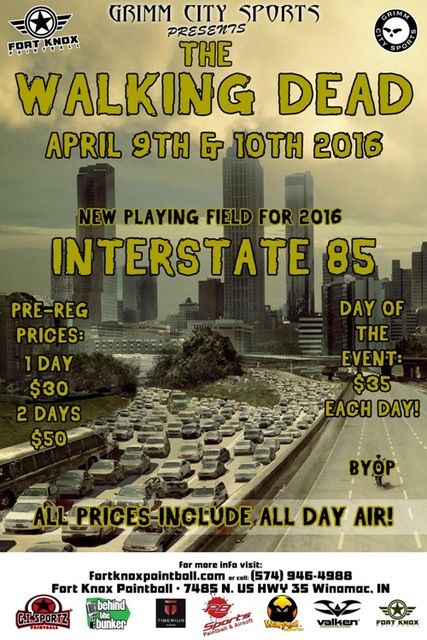 Pre-register at
www.fortknoxpaintball.com
1 Day pass/$30 (includes all day air)
2 Day pass/$50 (includes all day air)
Forget to pre-register? Just show up on game day to register.
$35 per day (includes all day air)
* Pre-registration will close April 1st at 10:00 pm.
The Walking Dead
After an outbreak of unknown origins, the world was left divided. Everyone who survived the initial viral apocalypse, started flocking together to lend their hands & guns to keep the rest alive. But more than just Humans remained inhabiting the planet. The undead, or better known as Walkers, pose a threat to humanities survival. When the time comes, who or what will you be?
Green/Human Survivors
Commander
Tyler "Rainman" Hodge of Four Horsemen & Rotten Kids
Red/Walkers
Commander
Bryan "Shooter Magavin" Gomez of Splat City Assault
Schedule
Friday April 8
2pm Gates open for free primitive camping
Download camping waiver
Day 1 (Sat.) April 9
8am Registration/ paint sales/ air fills+chrono stations open
11am Game briefing
12pm-3pm Game on!
3-4pm Lunch Break
4-7pm Game on!
Day 2 (Sun.) April 10
8am Registration/ paint sales/ air fills+Chrono stations open
9:30am Game briefing
10am-2pm Game on!
2-3pm Lunch break
3-3:30pm Final Battle
4pm Awards and Giveaways
Air Fills
CO2 and 3000-4500 psi HPA fills available.
Rentals
Equipment Rental Package: $10.00
(includes semi auto gun w hpa tank & mask)
Other Rentals
Ammo Pack w/ 3pods: $5.00
Chest Protector: $5.00 (free for kids under 14 & ladies)
Military Jacket: $5.00
V force Goggle: $5.00
HPA Tank Rental: $5.00
Paint Prices
Paint starts at $44.95/2000 or $15.95/500
Event Photography
Fort Knox will post event pics after the event. Pics can be viewed on our Facebook.
Lodging
Our Free primitive camping or local resorts will help your weekend stay be a comfortable visit. Fort Knox primitive camping is available Friday and Saturday nights on Big Game weekends. If you are not all about primitive camping in the great outdoors, the lodging link at
www.fortknoxpaintball.com
has some nearby motels/hotels, cabin rentals, and campgrounds with electric hook up and showers available.