Need money for cup so here goes:
BUYER PAYS SHIPPING + PAYPAL FEES
BNIB Virtue Halo Backplate - "Cheat to win" magic 8 ball = wipe it
PRICE:
$10
NXe Pack 4+5+2 Black
PRICE:
$25
Dynasty Jersey - XXL Blank - USED
PRICE:
$45
BNIB JT spectra/flex SMOKE Lense
PRICE:
SOLD
JT spectra/flex Frames
PRICE:
[b]$10[/B
JT Visors (2)
PRICE:
$10
(each)
47ci Aluminum Bottle (NO REGULATOR)
PRICE:
$15
Stock 05 Ego bolt
PRICE:
$10
4 Pod pack. Very padded - great for bounces
PRICE:
$10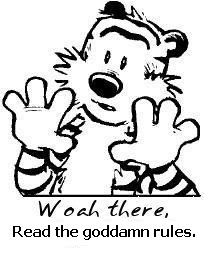 RULES:
My rules are important to me. By making an offer you agree to them. If you have any questions or dont feel comfortable with any of my rules then feel free to ask and I will gladly work with you, however if you do not ask then I take full assumption that you have read and agree with them.
1. WAYS TO CONTACT ME - Post here, PM me, AIM me ( Sting4588 ), Email (
bjm5090@psu.edu
)
~~~IMPORTANT AIM NOTICE!!!- If I am not online and you message me DO NOT send me like 20+ Instant Messages. it goes to my phone as text messages and i pay for those. I dont mind you messaging me just dont be like - "hey" - "are you there?" - "wuts up?" - please just condense your message into as few as possible and just give me your offer. IF I DO NOT RESPOND I EITHER DO NOT LIKE YOUR OFFER, AM AWAY FROM MY PHONE, OR AM IGNORING YOU BECAUSE I AM BUSY!!! - MORE OFTEN THAN NOT THOUGH, I WILL RESPOND SO JUST MAKE IT BREIF AND TO THE POINT!!!!!!
2. SERIOUS OFFERS ONLY!!!!
3. Person with more feeback ships first unless you are buying in which case I want money first
4. I accept paypal, money order, cashiers check, and personal checks. Personal Checks must clear before anything ships out.
5. I ship USPS Priority. Want it sooner or a different way? u pay for it.
6. All paypal transactions include 3% fees paid by the buyer
7. PLEASE if you are adding cash for a trade SPECIFY HOW MUCH!!!
8. I don't deal with angry parents. If you are not 18 or you dont have your parents permission it is not my fault. Im not going to ask you, so if **** hits the fan with ur family dont ask me for a trade back. Under very few circumstances will I trade back on a deal that has been made final.
9. No refunds on a Sale unless you have a damn good reason (however still at my discretion)
10. Dont flame my prices or rules