This mod shouldn't void your warranty because it's reversable.
What it will do for the Dits, is add a little bumper, reduce metal to metal contact noise, and help add that much needed extension in the breech for a good BIP.
Crazy glue on, then cut with shop knife. Don't leave any over hang.
Note: this is an option to the washer fix.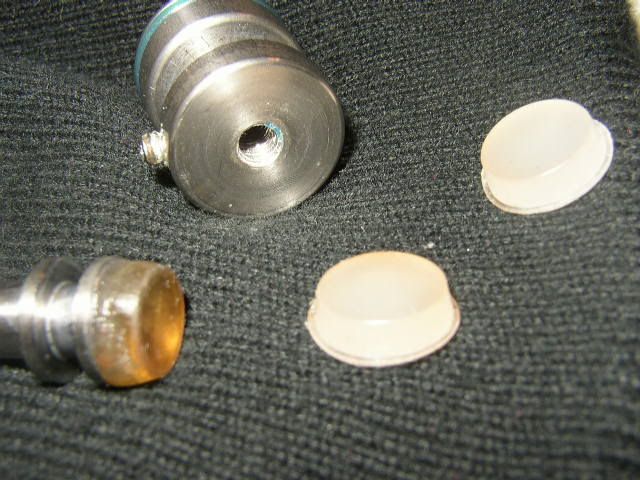 The material used is a nice plyable cilicon found at a hardware store. This product is used as a bumper for cabinet doors, you can also find the in rubber, they're usually a little flatter.
------------------------------Adding Space Washers to Ram---------------------------
Unscrew ram housing from Dits. Locate proper allen wrench to unscrew retaining screw from hammer. Unscrew hammer from ram; note: if the hammer was fitted with loctite blue, hand removal will not work. You will need a clamping device with rubber flats gripped around the rod to keep from turning. Once the hammer is removed, you can add two washers, providing they are from AM, so you can avoid warranty issues.
Replace hammer after inspecting threads from debree, clean with steel wool or wire brush, add one drop of loctite blue to the tip of threads located on the ram, screw hammer all the way to the stop, replace retaining screw, no need for loctite, but if it makes you feel better, then do it, but go real light with the blue. and continue with the reassembly. And remember... AM Rules!
For a detailed tutorial with pictures use the link.
http://www.pbnation.com/showthread.p...hreadid=884091