Ok guys and girls,
The moment we have all been waiting for. Larry asked me to post examples of various roster combinations for illustrative purposes so you can see potential ways that you can get creative.
Now, I know you all may have a ton of questions about who and why and how. What I can tell you is: This is literally an 11 step formulation to accurately depict each individual player's strength against all other players in the division they reside in. What that means is, a "D2" player isn't just a "D2" player. Therefore, why should all D2 players be counted as the same? At Carolina Cup, the idea is that they won't be the same.
Every player in every division starts out with a maximum point value. That assigned point value is based on the player being a top of the line player in their division. The players maximum point value is then adjusted, based on where that player falls in their division, against all other players in the division. This isn't an educated guess by Carolina Cup. This is a very long thought out method of computing. The key part is, the player's point value can never fall below the maximum point value of the division below them.
Ex. A D3 player has a maximum point value of 275 points. A D4 player has a maximum point value of 200 points. Therefore, the D3 player can never have a point value less than 201 points. It is the same basis across all divisions from D6 up through Professional.
Point values are adjusted based on your playing career, as it is currently on record. Please tread very carefully here. If a player tries to manipulate the system in any way, shape or form, there will be dire consequences. Carolina Cup will require a copy of your playing career and at anytime if there seems to be a discrepancy, Carolina Cup may require additional verification. All rosters must be submitted to Carolina Cup for preliminary approval prior to payment to assure the roster is within compliance. You can make changes to the roster up until the captain's meeting, so long as the roster does not exceed your point cap.
The Total Team Point Cap total is: 1,400 Points
Individual division point cap values are as follows:
Pro – Max 500 Points
D1 – Max 425 Points
D2 – Max 350 Points
D3 – Max 275 Points
D4 – Max 200 Points
D5 – Max 100 Points
D6 – Max 50 Points
Those are the maximum point values. Most players will not be at or near their max, so your point value can be significantly less than the max, but never less than the max for the division below you.
Every team has this same point cap total to work with. It will not change from team to team. Nobody has an unfair advantage.
You are free to construct your team in any way you see fit, using any combination of players you want, so long as you fall at or below the Total Team Point Cap of 1,400.
Do you know a pro who wants to play? Call him, see what his point cap value is and see if it works into your Team Point Cap Total. Are you a D5 team that has known these (2) D2 guys for a while that can't find a team to play on locally? Call them! See if you can work it out to have them. Keep in mind, everyone has the same 1,400 points to work with and max roster size is 6 players. Those are your only constraints.
If any players/teams are planning to play either CFOA event #1 or PSP event #1, you may want to have your roster preliminarily approved and submit payment for Carolina Cup event #1. If you place very high or even win an event, you jeopardize having your point cap value significantly raised. If you secure your ranking for Carolina Cup Event #1 prior to playing any of these events, you will be that same point value for the entire season, even if you continue to play APPA sanctioned events and your ranking increases. This goes for any player or team. The point value you are assessed from the first event you play in Carolina Cup, is the same value you will have for the entire season. If you accumulate APPA points and your division changes, you will not be affected this season, but next season you will have a new point value.
Happy team building and hope to see you all on April 6th at Glory Road Paintball in Monroe, NC.
-Charles
Example Roster #1: Roster is good!
Example Roster #2: Notice how the roster is just over the limit by 35 points. I added D1 ranked James Butts to the roster. James plays professionally with Chattanooga CEP. With his rank currently set at D1, he could potentially help a team out.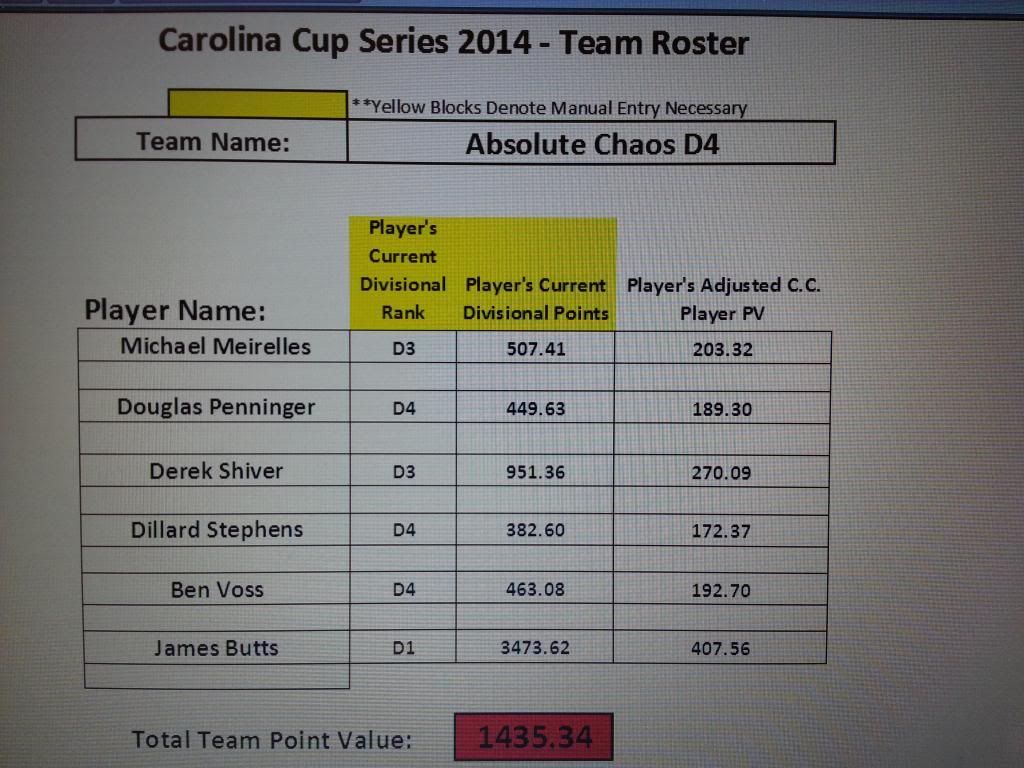 Example Roster #3: Roster is good!