OK so I have ended up in need of money pretty quick for a Christmas surprise for my lady. One of those I will Float a lowball offer just to see what happens. What happened was I got a conditional Yes.
I can get a seriously great deal on a seriously great gift but I have to have the money by Wednesday. Which is before my payday. To make the deadline I am getting rid of all my paintball markers except my daily shooter.
THE RULES!
*Sale will end 12/14/2013 at 0800 EST
*No RESAONABLE OFFER refused.
*Items will be shipped when paid. If you paypal by the end of the sale that means they will ship priority mail Saturday.
*Shipping is included in the price for the US. Actual shipping added to international orders.
*I accept usps money orders and paypal.
*most of these are project markers. I will list any issues I am aware of, but
Now the good stuff.
+++Blue fade 32 degrees sniper with hump back frame and matching sniper kit. This one is totally untested. I got it planning to do something with it but never have. It has some ano wear and scratches but is still a great looking gun. $125 OBO I got it on EBAY I think, this one has been sitting for 5 years or so.
+++Green splash sterling with p-stock and almost matching barrel. It also comes with black teardrop barrel. Works great right now but is shooting hot. I bought it from someone who said it was an stp. It is not or at least doesn't have an adjustable bolt. The almost matching barrel I got here. It is beautiful but has a gold oversplash not the silver the rest of the gun has.
$150 OBO Sterling from ebay barrel from MCB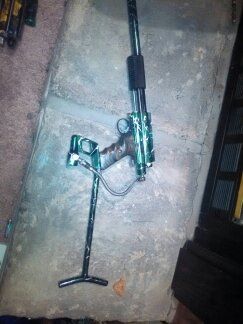 +++Camo ano RF sniper. Rear grip thread is iffy. It worked for me the last time I used it but it is stripping. It needs a helicoil or a retep but currently works, or did.
$110 OBO
+++Carter Buzzard Greeen/silver fade with some franken parts and no VA Got it from craigslist. Works great. $250 OBO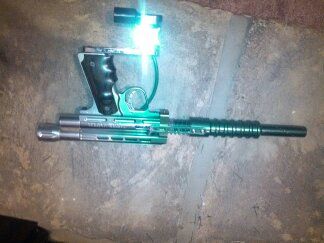 +++Epic DV8 Has the classic leak from the bottom of grip. If you take it apart and rebuild it the leak goes away for a day or two but returns. It still functions with the leak but will have first shot drop. $275 OBO Bought it here.
+++PMI 1 Nice gun with a great patina. Pretty much flawless. It has an RVA.
$75 OBO Got from ebay.