Hello nation today I have a bunch of cool stuff for sale. I am mostly going to be looking for cash offers, and they will most likely take priority, if you must trade make it worth while!
RULES

Post before PM.
I am an ASM with sufficient positive feedback, I am trusted and will most likely not be shipping first, unless you have considerable feedback.
Post Here, THEN PM.
If you're adding anything, please state how much.
If you would like me to ship my usual USPS 2-Day, you will be as well.
Shipping is not free, You will be adding an extra $10 for shipping costs
If you read the rules post "
" in your post/offer.
All Items leave my hands in great working order, unless otherwise stated.
Limited Edition 300meter Drab Nixon 51-30 Watch
Info:
This is MY watch that I wear currently and is quite honestly my favorite watch Ive ever owned. Not really sure why I have it on here for sale but just seeing what I could get for it. Bought from a local surf shop, by me personally. Paid $417 and had to have it transfered down from New York, because it was the only place that had it. Very nice watch and in good condition. Comes with box and manual.
condition 9/10
Want- $325 OBO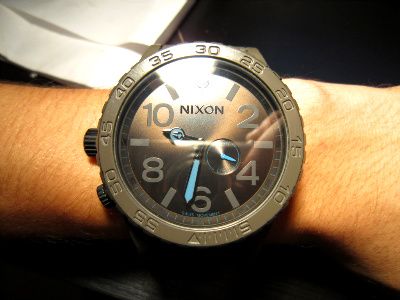 KREW Stealth Watch
Info:
Payed $175 when purchased new
This is a watch that I love. It has a leather wrist band which has NO WATER DAMAGE. This watch was purchased once again, by me personally, and does have some scratches on the glass face of the watch, as shown in pictures but can still be worn, nothing major. Comes with Box.
Condition 7/10
Want- $90 OBO