We were going through some parts sitting on the back shelf at the shop and came up with a whole box full of e-cocker parts. They were all taken off working guns to either pump or mech them. They have been sitting for some time and we do not have any drilled cockers laying around to test them. Everything is AS IS, we will do our best to check everything over and describe them the best we can. Closeup pics can be taken if needed.
Most questions, transactions, and shipping will occur during our normal hours of operation, 10am-6pm EST
.
No Trades
. We accept Paypal or Visa,Mastercard or Discover
We will ship either USPS or FedEx and shipping is
not
included in any prices. To find your shipping cost use the USPS site with zipcode 16635.
On to the goods...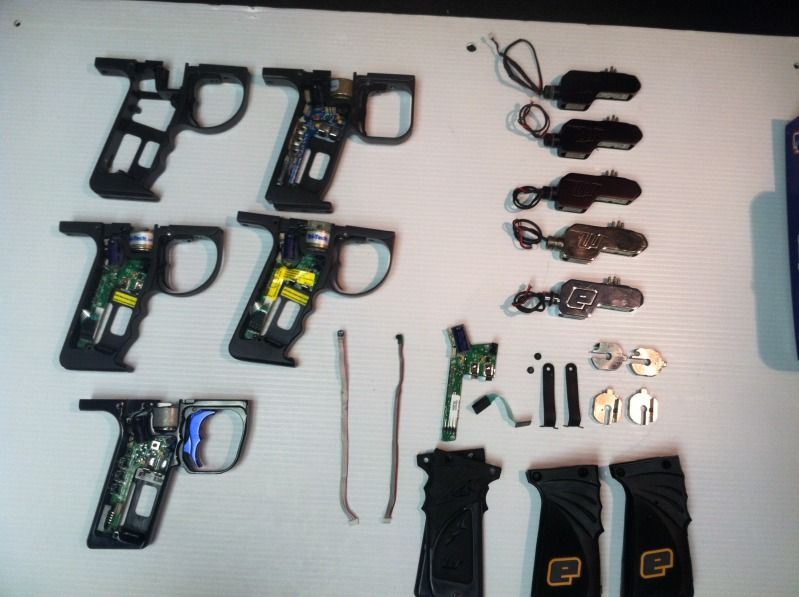 Frames Starting at top left
SF Frame- Gutted $15
WorrFrame- missing noid plate, zeroB V1.00 $80
SF Frame- Missing Sear spring, missing noid plate $30
SF Frame- Complete $40
E1 Frame- No board screws, no screen cover, no buttons, blue trigger, E1 v1.06 $65
Noids Starting at the top
WorrNoid- Spliced wires $25
WorrNoid- Good Shape -$35
WorrNoid- Good Shape -$35
WorrNoid- Good Shape Chrome -$35
WorrNoid- Good Shape Chrome -$35
Eclipse Noid- Good Shape Chrome- $35
Eyes
Left Set- Possible damage $10
Right Set- Good Shape- $20
Eye covers With screws - $15 each
SF Board -$10
SF Button- $5
Noid Plates- Top Left -sanded down? -$2, $5 each for the rest of them
Panel Grips- $10
E1 Grips- $15
More stuff will be added this week as we find it.
additional pics...