My BT Paintball Review
TESTED
BT Pro Pants
BT pro Jersey
BT Merc Vest
BT Bungee sling
BT Combat Gloves
Well I was after a new set of Bushball clothes after repairing the set i have now to many times.
I searched the web for reviews and watched a hole heap of youtube videos and decided i would give the BT products a run.
So i purchased a set of Bt Pro Pants and Jersey and a Merc Vest will all the accessories (4 Grenade pouches , bottle pouch, 2X 3 plus 4 pod holders ,Comms pouch, Large zippered pouch, Universal pouch, Universal ID pouch.
And i also brought a BT bungee sling and BT combat gloves. Off a mate in The US who owns a shop as no one I buy from stocks it here in Australia
My overall impressions of all the gear when i opened it was that the Quality was A Plus everything seemed to made to a really high standard and built to last.
The Camo pattern seams Very nice A little to Green for us here in Australia and i would love to see a Desert Pattern Released for us Ballers that live in a more Arid environment.
The Retail packaging was nice and gave you all the other options that BT paintball make for the vests and such
And the pants and jersey came with a great little booklet that showcased BT paintballs range.
Other Senario gear i own
Special Ops Fusion pants ACU
Special Ops Ultralight top ACU
Special Ops Broadsord Vest Olive
True Spec Pants and top in Marapat
BT Pro Pants
First Impressions
: The build Quality was Amazing ,, and the fit just right
I am a big baller and brought the XXXL Pro Pants. The Fit was Great with heaps of room up top and stretch panels in all the right places. The pants have 2 large front cargo pockets and to Huge internal pockets and 2 more on the Bum so you can carry a bunch of stuff if you want to just in the pants. If you use the Cargo pockets to store your wallet you can be assured it will stay in there through really Hardcore Play because the flap is held with Velcro and a buckle which is quite reassuring.
(Picture here)
There is also 2 Swab pockets that are in just the right spot.
Stretch Panels
: Finally a company has decided to put in Heavy duty panels into there scenario gear, Reminds me of the panels Put in my Empire Pants A ++.
(Picture here)
(And Here)
Hard Knee Protection
: The pro pants have hard knee Protection built into them and I must say it is one of the best built in knee pads I have ever used.
(Picture here)
The pads are held into the right place buy 2 adjustable straps. These straps help you get just the right amount of tension needed to hold them in place, They are help by Velcro and I found adjusting them to the right spot than wrapping them in electrical tape made sure they didnít come undone. Behind the Knee pads on the back of the leg is a mesh panel that runs all the way to the bottom of the leg that keeps you leg and Knee very will ventilated and is quite necessary because of the hard pad on the front. My only dislike to the hard knee pads is that you no longer will get bounces from the knee area but the added protection from rocks, sticks and tree roots out weights this buy a long shot in my books.
Ventilation
: These pants are very well ventilated, there no where near as airy as say Special ops Ultra lite pants but offer you so much more protection and sturdiness.
As mentioned before there is mesh venting behind the knee and in the crouch and also a great User adjustable venting system on the sides of the thighs.
Picture here
In cool weather you can leave these zipped up to retain the heat and when it gets hotter just unzip the and open them up for extra cross ventilation , a great Idea so simple and effective.
Pant Pros
Sturdy
Well Ventilated
Hard knee protection
Pant CONS
Maybe a little thicker padding in the crouch Protection would be nice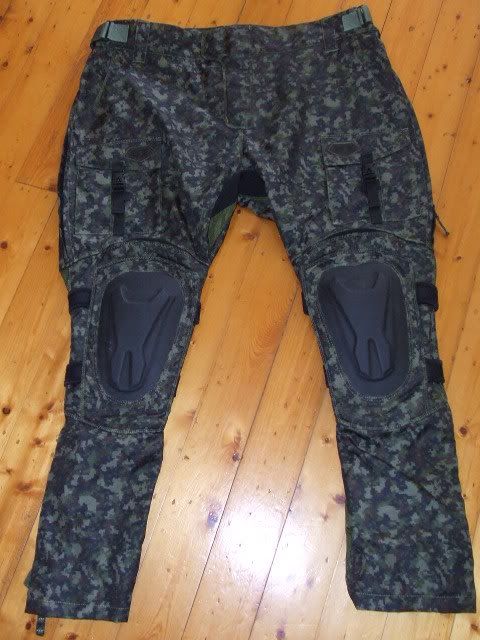 BT Pro Jersey
First impressions
: the Build quality again jumped straight out at me , no lose threads High Quality stitching it looks like the pro jersey would last quite a while.
Ventilation
: the Bt pro jersey takes Player comfort in a different direction with the pro jersey instead of just mesh (Special ops Ultra Lite ) they use a Lycra material over the chest and back where a vest sits and under the arm pits this wicks sweet away from your body quite well and with a slight wind has a nice cooling effect
(Picture Here)
, The arms are made from the same type of tight woven mesh used in football jerseys. All in All itís a very comfortable jersey to ware in the heat of Australia.
Pockets
: Has 2 pockets on the arms for storing small items and also 2 Velcro squares to attach your teams patches to
(picture Here)
Protection
: The elbows and a nice thin padding covered buy heavy duty cordra which isnít to much but isnít to little
(Picture Here)
, A great built in padding system. There is also quite a bit of padding on top of the shoulders that makes wearing a Heavy loaded vest quite a bit more comfortable.
It also has a small neck protector that covers the base of your neck
There is also Velcro wrist adjustment
Jersey PROS
Cool to ware
Great built in protection
Jersey Cons
The elbow padding moves around as it has no straps to lock it in place
BT Combat Gloves
First Impressions
: these remind me of my Empire half finger gloves so I love them quite simply
Protection
: these gloves have great padding in them the hole back of the hand is covered in a thin layer of padding and the knuckles and bottom of the fingers have a very nice thick layer of padding that feels like it would induce the odd bounce, there is also padding on the which is high density foam.
It also has a handy micro fibre thumb to wipe spray off your goggles and works really well in doing that, And a Rubber BT logo on the palm that helps with grip
Glove PROS
Fit
Padding
Micro fibre thumb
Glove CONS
The padding on the palm, If like my empire gloves this may rip out if you take a bad slide, Hasnít happened yet but it did to my empires, I would rather see a extra thick section of micro fibre on there.