The Sponsors Of The Paintball World Cup Asia 2011: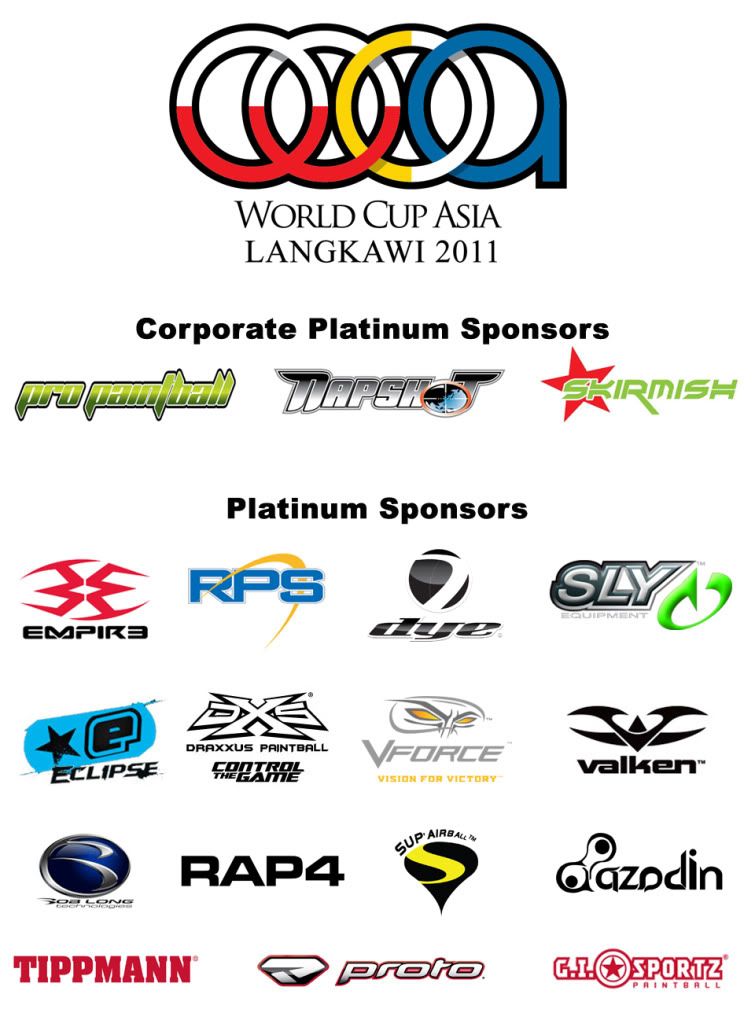 CORPORATE PLATINUM SPONSORS (MALAYSIA):
NAPSHOT PAINTBALL
PRO PAINTBALL RESOURCES
SKIRMISH
PLATINUM SPONSORS (PAINTBALL):
KEE ACTION SPORTS USA (EMPIRE/RPS)
DYE PRECISION/DYE ASIA
SLY EQUIPMENT
PROCAPS (DRAXXUS/VFORCE)
VALKEN SPORTS
GI MILSIM / GI SPORTZ
PLANET ECLIPSE
SUPAIRBALL
RAP4
BOB LONG TECHNOLOGIES
AZODIN ASIA
TIPPMANN
VIDEOS HIGHLIGHTING & PROMOTING OUR PLATINUM SPONSORS
*Credits go to the respective video clips owners
*More videos of platinum sponsors coming soon
GOLD SPONSORS:
DLX TECHNOLOGY (LUXE)
G.O.G PAINTBALL
KINGMAN/SPYDER
TIBERIUS ARMS
GIANT AIR
MILSIG INDUSTRIES
SILVER SPONSORS:
PBFASHION / HK ARMY
S2 STYLE SUPPLY
PBH PAINTBALL HEAVEN
VIRTUE PAINTBALL LLC
CRITICAL PAINTBALL
ACTIVE ENERGY
KM STRAPS
HAMMERHEAD BARRELS
DIRTY FREAKWEAR
LAYSICK
TALONMARK
EXALT
CUSTOM PRODUCTS
SPLATTRACK
NINJA PAINTBALL
ENERGY PAINTBALL BATTERY
PAINTBALL MEDIA SPONSORS:
ONLINE & DIGITAL:
PBNATION.COM (USA)
RESIDENTEVILCHEF.COM (ASIA)
PAINTBALLNEWS.ASIA (ASIA)
VILLAINPAINTBALL.BLOGSPOT.COM (ASIA)
SEBURO.BLOGSPOT.COM (ASIA)
PAINTBALLPHOTOGRAPHY.COM (INTERNATIONAL)
68CALIBRE.COM (USA)
HYBRID FOTO (EUROPE)
DERDER (USA)
PAINTBALL.COM (USA)
PROPAINTBALL.COM (INTERNATIONAL)
SOCIAL PAINTBALL (USA)
CATSHACK REPORTS (USA)
FORGOTTEN MUSE MEDIA (USA)
SPIRIT OF PAINT (EUROPE)
MAGAZINE & PRINT:
FACEFULL MAGAZINE (INTERNATIONAL)
HEADSHOT PAINTBALL & LIFE MAGAZINE (EUROPE)
ACTION PURSUIT GAMES APG MAGAZINE (USA)
PAINTBALL X3 MAGAZINE (USA)
PAINTBALL NEWS (USA)
* Logos coming soon
* Sponsorship is still open. Please email to registration@palseries.org (Allan) for more info. on sponsorship packages available and for the WCA 2011 - Vendor Info. Pack.

Thank you.