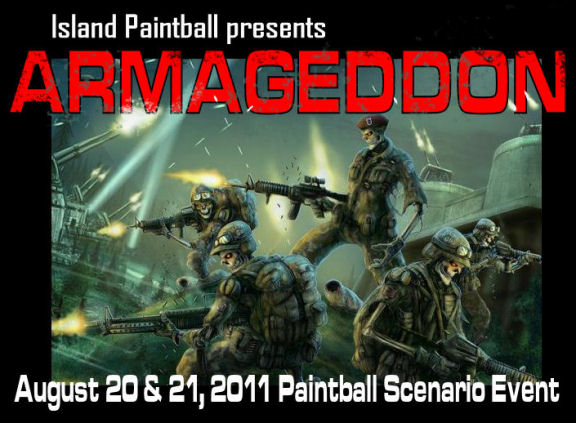 In the year 2012 the world as you know it was forever lost in a nuclear apocalypse. The scattered remains of the human race have been forced to hide in the barren wastelands and wilderness; searching for supplies and a means to survive. Now the land is lawless; humans have banned into two rival gangs and fight each other for control of vital resources. The Nuclear war has also brought a new threat to mankind's' existence. A small zombie undead army has awoken from the fallout. These fighters can only be taken down by the elite! Which gang will be strong enough to survive both the unending onslaught of the zombie horde and treachery of the rival human gang? The fate of humanity is to be decided...
Island Paintball is proud to announce a return of our Legendary Paintball Camp located in Thompson PA! Island Paintball ran an annual camp from 1987-2001. Armageddon will be a two day scenario game and feature an enormous multi terrain playing field, multiple objectives, Special effects, NIGHT GAMES, and more! Join one of the human gangs and fight for control of the world's resources!
Rates:
One Day:
$35 admission pre-registered/ $45 day of event includes unlimited airfills
Two Days:
$50 admission pre-registered/$60 day of event includes unlimited airfills
Paint Prices:
$75 per case 2000 rounds at event
$70 per case 2000 rounds if pre-paid for by 8/05/11
Full weekend Gourmet Barbeque meal plan:
$30 per person must pre pay with registration
Accommodations:
FREE Camping available on site bring your own tent.
Other Lodging information will be posted at islandpaintball.net/scenariogames.html
ARMAGEDDON SCENARIO EVENT Located on Gelatt Road, Thompson, PA
CALL ISLAND PAINTBALL TO REGISTER! 631-694-2707
Field:
Approximately 70 acres of beautiful, rugged play area will be utilized for this event. Teams will switch starting sides after lunch.
Armageddon official Rules and Objectives:
1) Firing modes: Semi uncapped, response triggers and PSP 12.5 BPS Cap will be allowed. No uncapped full auto will be tolerated.
2) Eliminating opponents:
A player is eliminated from play when they are hit by a paintball anywhere on their body or equipment and the paintball breaks leaving a quarter size or larger splat mark. Non direct paintball hits or "splatter" does not count as an elimination. ANY spec of Splatter from a paintball grenade DOES count as an elimination. When a player is eliminated they must carry a white dead-man flag above their head and report to designated check-in stations (Gang HQ's, medical station or neutral zone). A referee will check the eliminated player in and award the opposing team 1 point for the elimination. Gang leaders (team Generals) are worth 20 points per elimination. Lieutenants that the Gang Leaders appoint to lead squadrons will be worth 10 points per elimination. Every 15 minutes will be a reinsertion (every hour on the hour and at the 15, 30 and 45 minute mark). note: Re-insertions at the Medical Center base, when controlled will be every 20 minutes.
Eliminating Tanks: Tanks can only be eliminated by two nerf rocket hits and are worth 50 points per elimination for your team. One nerf rocket hit will disable the tank from moving. Tanks will have access to over half of the playing field and when they are eliminated must return to their team HQ and wait for a reinsertion time to be determined by the Ref.
Note: No Homemade anti-tank guns allowed unless pre-approved by the field.
Eliminating Zombies: The only way to kill a zombie player is by obtaining anti-zombie weaponry from ammo boxes brought to the armory base. Zombie eliminations are worth 50 points each.
3) Primary Objectives:
Each team will vie for control of various bases, the fuel depot, Medical station, and Armory. To gain control of a base your teams' flag must be raised. Upon gaining control of the base your team will awarded 50 points. For every 30 minutes that the base is held your team will receive an additional 10 points. In addition to gaining points, each base will give a special perk if your team controls it as follows:
Fuel Depot: If your team controls the Fuel depot base you will be able to score extra points by bringing Oil barrel cans found throughout the playing field back to the base. Every Oil barrel brought back will award your team 10 extra points. Also each barrel that remains at the base will add an additional 10 points to the bonus points awarded for holding the base for 30 minutes. If a team needs to abandon the base (due to a zombie attack or being over run by the opposing gang) players can take the oil barrels from the base so that the other Gang does not get the additional points if they take control.
Medical Station: If your team controls the Medical Station players in your gang that have been eliminated can use the base as a check-in and be healed and reinserted into the game without the opposing team getting any points for the elimination. Reinsertion at the Medical Station is every 20 minutes; on the hour, 20 and 40 minute marks. If the opposing team gains control of the Medical station while players are waiting to be healed for reinsertion all those players will be counted as eliminated and must report back to their gang HQ. Once those players check-in at the HQ they can immediately be reinserted without having to wait for another reinsertion time.
Armory: If your team controls the armory they will be able to bring locked ammo boxes back to it for 10 extra points per box. The ammo box will then be unlocked by the referee and inside will be anti-zombie weapons, a power amp chest guard or secret mission orders! The anti-zombie weapons will be the only way to eliminate a zombie. The power amp chest guard can only be used by your Gang Leader and will represent a robotic power suit that will give your leader 20 minutes of near invincibility. While wearing the power amp the leader will be impervious to everything but anti-tank weaponry (nerf rocket) OR paintball grenades. Once it is put on the suit power supply will run out after 20 minutes. Anti-tank nerf rockets will not be provided as props you will have to bring your own! Grenades will be available for purchase at the event or you can bring your own as well. Secret mission orders will be SECRET but if you complete them they will earn you 100 extra points for your team.
Gang HQ: The Gang HQ is the home base and starting zone/reinsertion for each team. No points are awarded for taking over an enemy HQ. At each Gangs HQ will be one Gang flag. If you capture the opposing teams flag your mission will be to bring it back to your gangs HQ. If your Gangs flag is still at your HQ when you bring the opposing teams flag back your team will be awarded 200 points. Flags cannot be hidden and must be fully displayed while traveling with them.
4) Zombie behavior:
The Apocalypse has awoken a Zombie menace! They hunger for human death and destruction. Zombies are nearly invincible players that will follow a somewhat non-specific mission throughout the event. Zombies cannot be killed by paintballs or grenades etc. The only way to kill a zombie player is by obtaining anti-zombie weaponry from ammo boxes at the armory base. Zombie eliminations are worth 50 points each. Zombies will patrol the field going from base to base and eliminate any players they see from either team along the way. When a zombie reaches a base they will eliminate all who are there and take down what ever flag is up leaving the base in a neutral state of control.
Controlling Zombies: No one knows exactly how the zombies came to life but legend has it that they can be controlled for a short time by those that practice the black arts of VOODOO! To perform this voodoo and gain control of the zombies, players will need to find 2 items, a rubber chicken (for the sacrifice!) and a hula-hoop (for the voodoo dance). Once a player has both items they can wave the chicken and hula-hoop at the zombies to get their attention. Once the zombies come over to the player the player will have a short time to perform the ceremony or be killed by the zombies! The player must wear the rubber chicken around his/her neck and do a hula-hoop dance. Upon completion the chicken and hula hoop must be given to the Zombies and they will perform one task for you and not stop until killed or distracted by another voodoo charmer.