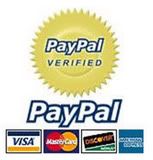 Rules
1. Be nice.
2. Type in proper English.
3. Post here and then PM me if you are looking to buy.
4. No Trades.
5. I ship to US only.
6. I will only ship after I've been payed.
What I have for sale here is an old school Bob Long Millennium spyder body. I picked up a while ago for a spyder project that I had in mind, but ended up scrapping the idea. It has the blue spash anno and the threaded (i thing wdp) feedneck.
Price:
35 + shipping obo