SOLD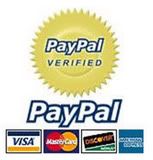 Rules
1. Be nice.
2. Type in proper English.
3. Post here and then PM me if you are looking to buy.
4. No Trades.
5. I ship to US only.
6. I will only ship after I've been payed.
Here I am selling an air tank that I no longer need. It is a 68/45 dye throttle air tank. It was last hydro-tested in 3/07 so it is good until march of next year. The tank has a little scuff towards the top of the bottle, but other than that is in perfect condition. Can include a blue 68 ci dye tank cover if needed.
Price:
100 + shipping obo