]*Rules*
1)
You pay, I ship. Regardless of feedback.
2)
I take Paypal and MO.
3)
If using MO, I will ship when I receive payment.
4)
Buyer pays for shipping and any PP fees.
5)
I ship UPS ground.
6)
I don't ship out of the continental U.S.
7)
PM me for a quick response.
8)
Prices
DO NOT
include shipping.
9)
NO TRADES.
10)
Don't flame or spam.
11)
My stuff is in good condition.
Any damages or defects will be stated.
Anything else you can blame on mishandling of the package by the shipping company.
12)
Questions and free ups are welcome.
13)
PM
me or post here.
I have my two SD Aftermath jerseys for sale. I was a die-hard SDA and SDA II fan, up until they broke up. I have quit paintball and I'd like to make a little money off of these. They are worth big bucks in the fact that SDA is no longer a pro team and that I have payed a lot for them.
First is Kekoa's 09 TNKD Chicago jersey. (SDA took 2nd place to the Russians in a score of 1-7). It is autographed with Kekoa's infamous
"Sho U Da Rootz"
along the back and
"808 All Day"
(Which is the area code for his native Hawaii.) Along the back shoulders. I used this jersey a lot but it is still classy. There is one rip on the lower left arm from when I got it, nothing big.
PRICE: $175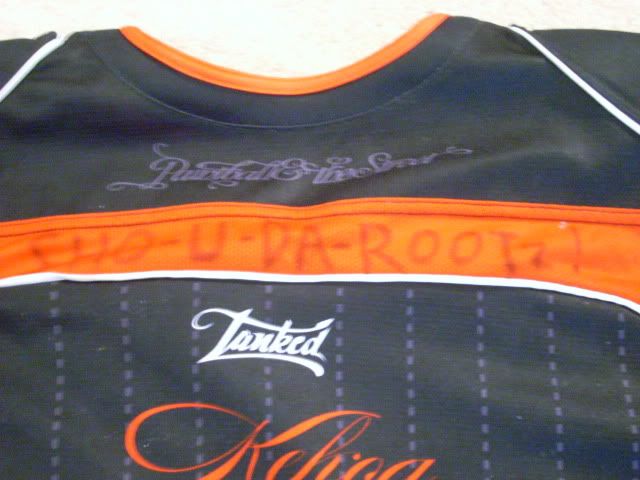 Second is a SDA Steven Pitts signed City 7man jersey. It is blank on the back, I have a small signature on the right side, just under the shoulder from when Steven Pitts signed it. This jersey is nice and large, as well as lightweight.
PRICE: $150