Empire RF Transmitter Installation in a TM-7 Marker.
• Make sure your marker is degassed and safe to work on.
• Apply tape onto the Empire RF transmitter as pictured. Try to leave the two LEDs uncovered.
• Separate the body shells per the markers manual.
• Disconnect the solenoid from the stock wiring harness.
• Attach the correct included harness (one pictured) into the TM-7 solenoid plug and then plug the solenoid into the other end as pictured.
• Plug the long white harness into the open connecter and then plug the RF transmitter into the white harness.
• Install the RF transmitter in the provided space on the right side shell as pictured and gently bend the antenna; so it's pointing toward the loader. If the electrical tape does not hold the RF transmitter in place, use some double sided tape.
• Make sure all the wiring is contained within the shell, so nothing gets caught between the shells.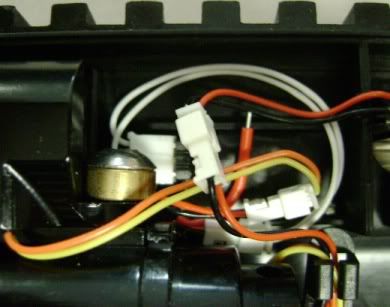 • Re-assemble marker following the markers instructions.
• Synchronize your gun with your loader as per the loader's manual.
• Test - Turn on your TM-7 with the eyes off and pull the trigger. Each time you pull the trigger, the loader will spin.
• Go play paintball!