Top: Some quick how to install info
Bottom: Link to RMOD Files
You the user: Please post what settings you found to work best on your gun + what your gun is... Vike/Excal, Hump/Mac, Etc.
You'll Need:
Vlink Application + Pandora Board available from:
http://www.paintballtrader.com/Xcart...me.php?cat=271
RMOD Code: "rmod420.efw" (see bottom of post for this)
Setup:
Connect the cable to your computer and Pandora board
Open Vlink Software, this will autodetect your board and settings. If it doesn't your board is not plugged in right or not turned on. The board needs to be installed in your gun to program it
Click Update Firmware: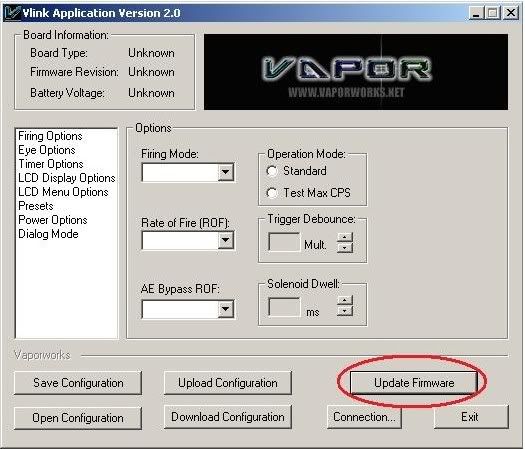 Find the "rmod420.efw" file on your computer. Where ever you saved it to
Click Open once rmod420.efw file is found, this should update your board with the RMOD code. After that you have to program EVERYTHING via the trigger. You'll' need the RMOD manual for this. That should be it, you've got RMOD installed now.
Did I miss anything?
I have NOT done a RMOD install in a few months, I think that is all that is needed. I'll update this if ppl message me saying something is missing.
RMOD Files are found here, thanks to haxorwear
(he did the mirror site, not his orignal work fyi)
http://www.networkinsecurity.com/pb/aka/rMod/