Some of you.. PMOT'ers, if you will, may have heard of this Metal Jesus fellow. Some of you may even be devout followers of this guy. But, do you know the story behind this, or is it sort of a.. Band wagon item from you???
Below, you will read the true story of the one and only Metal Jesus. Anything written below is proven by research, and historical fact*, and is agreed upon by The Church Of Metal Jesus.
Some of you that have been risen in todays western civilization probably follow some sort of religion. Be it Christianity, Catholicism, Judaism, Atheist, Or maybe you don't believe in anything at all, but the truth is, you have probably heard, and know what, the 10 commandments are. Well good for you. But now the truth comes out.
They're not what we were meant to have been shown. Not lies, or fakes, just not what was meant to be.
Below, you see an image of what you may associate with these.
Well, this is a modernized image, created by the false hope of people. These tablets may or not be correct, seeing as how we cannot make out the text, but the setting is all wrong.
This may be what it was really like:
(Note: while you may see one tablet, there are infact two. Metal Jesus is powerful enough to hold two bigass chunks of rock in one single hand, don't front)
This is story enough to crush any rumors or false lies of todays religion, but i shall go on.
Through my countless hours of research, and visits to 'religious' museums around the world, i have uncovered the true 'ten' commandment tablets. The problem here is, there is infact, TWENTY Commandments.
Below, may shock you, it did me, but feast your eyes on the one and only, Twenty Commandments Of Metal Jesus. (Note: this is a real photo from the real museum)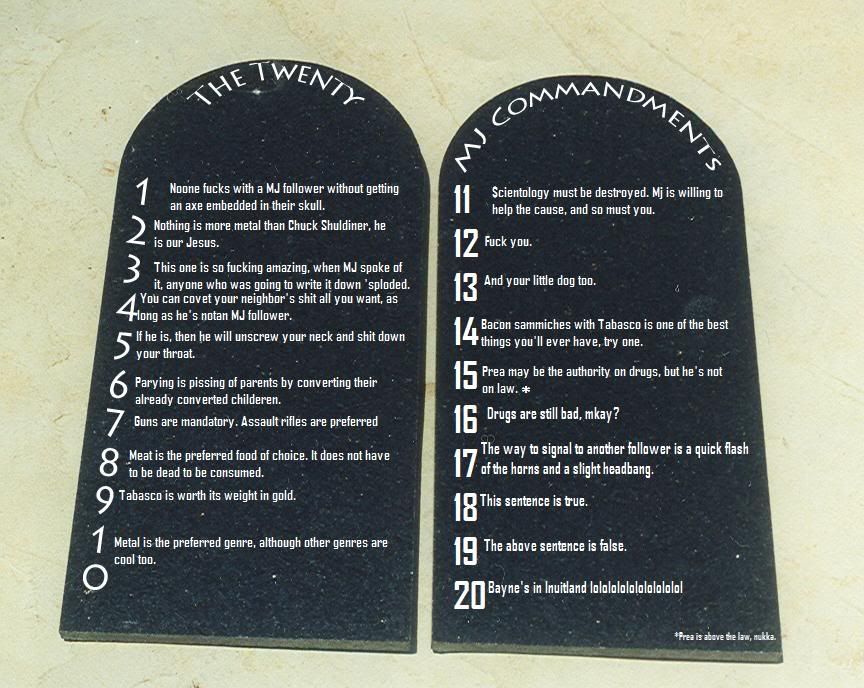 This truly can mean only one thing.
Metal Jesusism is the one, and true religion. It is now our duty, as PMOT'ers, to convert, and correct the people of todays world.
Now take your newly learned knowledge, ans use it to serve your God.
*Challenging this statement will result in death.