Whether you play PSP or are thinking about the New APL, the MPPL series is for you!!! Win Amazing Cash prizes coupled with Great APL Opportunities!!

MPPL is excited to partner up with the APL and offer you Great Prizes!!
Attention.. Our First event has been changed to March 29th!!!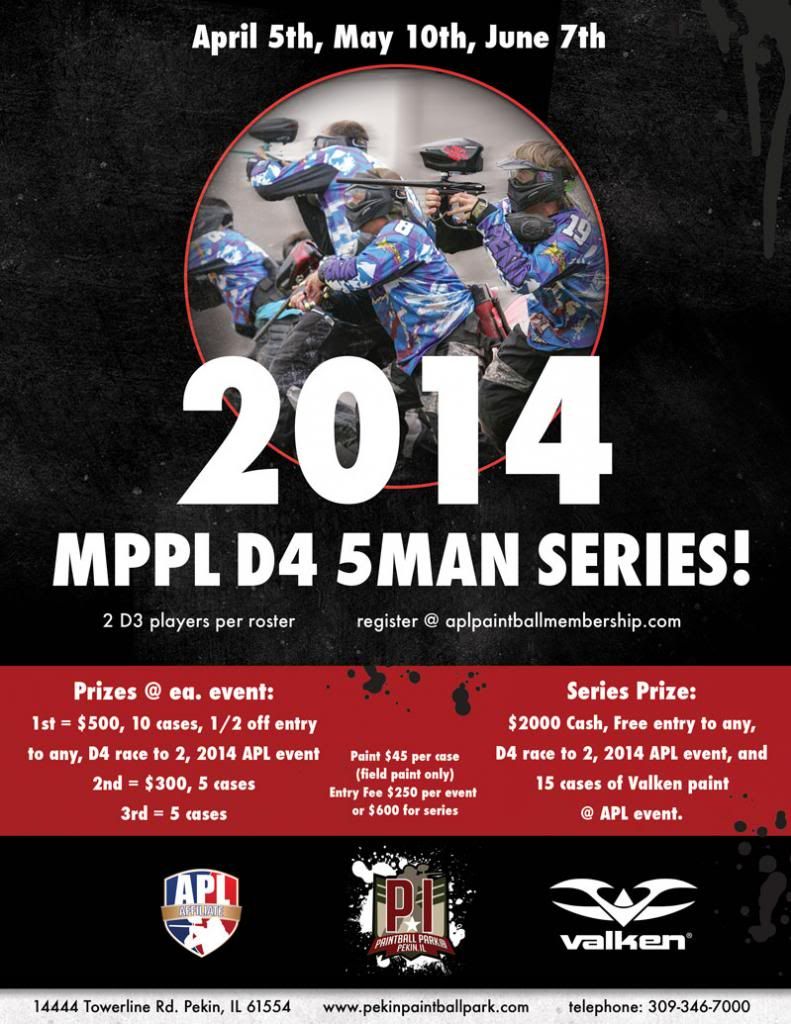 EVERY TEAM THAT REGISTERS FOR THE SERIES WILL GET $100 OFF CHICAGO APL D4 RACE TO 2 ENTRY FEE!!!
2014 MPPL D4 5man Series
2 D3 players allowed per roster
April 5th, May 10th, June 7th
Series entry fee $600
Single event entry $250
Paint $45 per case (field paint only)
Single event prizes:
1st = $500, 10 cases, 1/2 off entry to any, D4 race to 2, 2014 APL event ($1275 value)
2nd = $300, 5 cases ($525 Value)
3rd = 5 cases ($225 Value)
Series Prize
$2000 cash plus Free entry to any, D4 race to 2, 2014 APL event and 15 cases of Valken paint @ APL event ($3325 value)
register @
www.aplpaintballmembership.com
April and May event will have Chicago APL layout up!! June Event will be random.
Doors Open 6:30am, Captians meeting 7:30am, and First game @ 8am!!
12.5 Ramp, NO COACHING
Wear Orange or Yellow at your own risk!!!
You will need to Register your team here -> register @
www.aplpaintballmembership.com
If you have any question feel free to call or pm Mike @ 309-360-8424[/color]