I have a pair of dust black kila detents for the gen 4. LNIB. F/S/T
PICS - up tomorrow...
PRICE - $100 obo (offer)
New thread up tomorrow or later when i have more time.
CONTACT ME ONLY AFTER POSTING IN MY THREAD
The Rules:
* By Posting in my thread you offer to ship first. We can always negotiate just take that to mind.
* Do not spam or clutter my thread, free ups are appreciated
* If we work out a deal, payment is expected within 10 minutes. If you want to sleep on it, that's fine. I will simply sell it to someone else.
* I Accept Paypal Only +3% or possibly M.O.
* I only ship USPS mail (anything faster is at your expense)
* No Insurance will be included
* I will only ship after payment
* I am NOT responsible to what happens during shipping
* I answer questions completely and quickly. While others may leave you hanging when you ask something, overlook thread replies, or even forget to answer your inquiries, that won't happen with me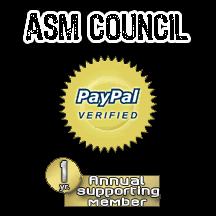 Feedback -
http://www.pbnation.com/showthread.p...6#post16922706