Anti-Chop
Well now that you have a blazing fast you need some way to make it not chop. As we all know M4gz r teh choppzorz!111seven!!11. Or so thinks a lot of the paintball world. There are four main ways to stop all of your chopping problems.
1. Parabolic Feed Plug
2. Faster Loader
3. Intellifeed
4. Level 10 anti-chop bolt kit
5. Eyes
1. Parabolic Feed Plug
If you have an older powerfeed Mag you may have occasionally had a problem with mis-fed balls. This my be because older feed plugs had a flat piece to them.
http://www.automags.org/forums/showt...threadid=12911
2. Faster Loader
If you're shooting fast and experienceing a lot of chops your loader may not be keeping up with your Mag. This is really only a problem in gravity feed and agitated loaders (VL 200 and revolutions).
The top of the martket force feed loaders of today are:
Halo B
Odyssey Paintball Products is proud to introduce the H.A.L.O. (Highly Advanced Loader Operations) computer controlled loader system.
Features:
22 + balls/second
Belt drive
Spring loaded drive cone
Computer controlled
Reflective sensor technology
Reinforced feed neck design
Low battery indicator
20,000 rds/battery change
170 rds ball capacity
1 year limited warranty
Now including the upgraded Z-code software
Also includes the rip drive built in!
(Descriptions and Pictures from
www.actionvillage.com
)
The Halo B also has upgrades for it to help preformance, such as the Victory board and Delrin Drive cones. (
http://www.actionvillage.com/is-bin/...er-accessories
)
Warp Feed
Worlds First Force Feeding System
Weight - 15 ozs
Length - 6 inches
Operates on one 9 volt battery
Exceeds 20 shots per second feed rate with 12 volt input
Designed for E-mag, but adapters are available from Pro Team Products for most markers
The Warp Feed is the worlds first pressure feed system for paintball markers. Instead of relying on gravity to feed your paint, the Warp positively and gently pushes a steady stream of paintballs up and into your breach! The system is a friction drive utilizing soft urethane disks in the feed wheel. The disks actually grip the paintballs on their sides and will allow the balls to slip when they are finished feeding a ball. In this way the system can not jam or crush paint. The mounting bracket provided bolts to the bottom of the grip frame and will allow the Warp to swivel to the most comfortable position. The Warp has two main benefits, first is reliably feeds paintballs faster than you can possibly pull the trigger and second it removes that large blimp from the top of your marker!! The Warp can be activated just by the adjustable vibration sensor when the marker fires or can be directly interfaced to your Emag or other electronic marker.
(Pictures and Descriptions from
www.airgun.com
)
Empire B
Feeds 22+ balls per second
Sound activated - no problems with dark shell paint. Also able to work through ball breaks in the hopper, which, in the past would interfere with the eye sensor.
Auto turn off allows you to conserve power and the low battery LED indicates when to change batteries.
Able to work with 6AA or optional 4 AA batteries. The board adjusts the power to the motor depending on the batteries used. The 4 AA makes for a lighter hopper.
The Rip Drive is a manual feed mechanism perfectly suited for any player who wants to have a backup system in case the loader's force feed system goes down or the batteries die. It also allows you to unjam paint, preload balls at the chrono without turning your loader on and by rotating the Rip drive in reverse you can easily unload the hopper.
Holds approximately 190 paintballs
(Pictures and Descriptions from
www.actionvillage.com
)
Velocity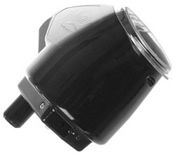 Feed rate of up to 25 BPS on the marker
Free fall rate up to 35 BPS
Adjustable Select Force Technology
Electronically controlled anti-jam propeller
Reprogrammable software
Dual vision system
Engineered with light weight, extreme impact resistant polymer making it the largest capacity and lightest weight loader on the market today.
(Pictures and Descriptions from
www.actionvillage.com
)
eVLution II
Feed rate of up to 19 balls per second
Special designed feeding propeller with new JVON flexible blades
Stronger spring loaded curved door which opens down acting as a funnel for faster fills and less spills
High impact resistant shell and longer neck
Easy cleaning design takes after the VL Revolution's field proven construction
LED light low-battery indicator
IR sensor controlling on/off propeller actuation and battery saving circuitry
Holds about 190 paintballs
(Pictures and descriptions from
www.actionvillage.com
)
Q-Loader
Marker Compatibility
Adapts to virtually any paintball marker in a number of dynamic configurations.
Standard Size Clip
Replaces standard reload pods and works with some existing harnesses and belts.
Constant Feed + Pressure
Maintains paintballs in constant alignment and pressure regardless of the marker orientation.
30+ Balls Per Second
Feeds paintballs faster than any hopper system, because each q-pod is loaded with a presorted stream of 100 rounds.
Increased Maneuverability
Allows the marker to operate smoothly at any angle and even while being shaken.
Lower Target Area
Reduces the player target profile by mounting the loading system under the barrel.
Silent Game Play
Feeds paintballs silently and reduces paintball rattle by isolating every paintball within a helical drive tube.
Clip-Based Loading
Robust Construction
Utilizes stainless steel and polycarbonate construction and is designed to deliver over 1,000,000 paintballs during its life.
Reduces jamming, miss feeding and ball chopping and other problems associated with loading systems that sort paintballs while firing.
Zero Batteries
Each q-pod stores enough energy to feed 100 rounds which means you'll never run out of power.
(Pictures and Descriptions from
www.qloader.com
)
3. Intellifeed
Wiring an intellifeed will make your loader load after every time you pull the trigger. Intelliframes come with a mounting bracket to make installation easier.

www.airgun.com
has how-to's on the subject.
http://www.airgun.com/downloads/eureka3.pdf
http://www.airgun.com/downloads/intelliwarp.pdf
4. Level 10 Anti-Chop Bolt Kit
"Once in a while, there comes a product that revolutionizes the way the game is played. LvL 10 is definitely the latest. As one of the beta testers from the beginning of the Lvl 10 design, I experienced everything - good and bad. The Lvl 10 is the culmination of AGD's approach to creating the perfect marker," said Francia. "Tournament play can present some of the most demanding situations in the way you have to shoot your gun. I never had an instance that it failed to shoot. I believe even the most fickle of gun owners will try and stay with an AGD marker with this modification in it."
AGD has been hard at work, refining the performance of their Automag line of markers. What they came up with is the new LvL 10. LvL 10 replaces the stock bolt and power tube tip with the newly redesigned Superbolt II and power tube tip assembly kit. With the kit properly tuned, your Automag bolt will bounce off of even the most brittle of tournament paint! Kits work on all AGD markers, including the Automag, MiniMag, RT, RT Pro and E-Mag.
(Pictures and descriptions from
www.airgun.com
More Info can be found here:
http://www.automags.org/resource/level10/index.shtml
Another helpfulk link
http://www.havoc-online.com/11730.html
The LVL 10 come stock on X-Valves, or can be purchased seperatly.
Here are a lot of LVL 10 videos:
http://video.google.com/videosearch?q=agd
5. Eyes
In the modern world of electros the anti-chop method of choice is eyes. With some electro conversions Eyes can be added to automags. It will require you to drill a hole in the body and fashon some eye covers. X-Mags come stock with an ACE board, there are ones made for mags, but they are rare and hard to find. The E-Mag Predator boards also have ACE, but those still arn't out.
Spydermags can be T-boarded which can accept eyes.
Logic's Electromag frame can accept eyes.
Devilmags can accept eyes.
iMags can accept eyes.
End of Anti-Chop